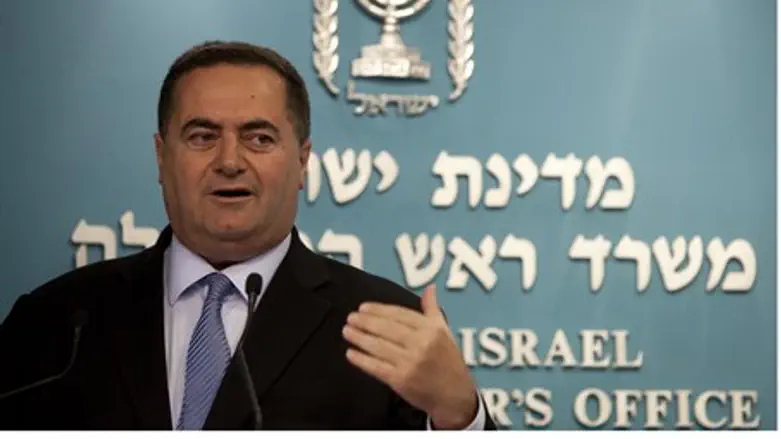 Yisrael Katz
Flash 90
Sovereignty over Judea and Samaria is dependent on sovereignty in Jerusalem, Transportation Minister Yisrael Katz (Likud) declared in an interview published Friday. 
Katz presented his plan to establish full Israeli sovereignty over the full State of Israel in an interview with the Sovereignty journal, published by Women in Green.
In the interview, he dubs the first stage the "Greater Jerusalem" plan. 
"I envision autonomy for Arab residents like what was decided at Camp David," Katz explained, referring to the 2000 Camp David summit. At the time, the status of Arab neighborhoods in Jerusalem was heavily disputed. In the Israeli negotiators' incarnation of a deal, the Palestinian Authority (PA) would have had civilian autonomy - but not full sovereignty - over Arab neighborhoods and the Temple Mount.
"This [plan] was the most correct, and it's a shame that discussion surrounding it was discontinued," Katz lamented. "Every attempt to establish a full Palestinian state in the first place is doomed to fail. I'm talking about autonomy and ties with Jordan, a form of citizenship and political affiliation that would enable that they [Palestinians] lead their lives well, but without security and foreign affairs autonomy."
The comment echoes statements by Defense Minister Moshe Ya'alon, also of the Likud party, who on Wednesday called for giving the PA autonomy although not a state.
But to Katz, the time is not yet ripe. The political arena, he says, is a battleground - where to navigate between right and left, you must attack the enemy's weakest point. Katz has identified this point for the political Left as Jerusalem. 
Katz's "battle plan" is to establish sovereignty over "Greater Jerusalem" - the many neighborhoods beyond 1949 Armistice Lines that are under the legal jurisdiction of the capital city - and declare it as, unequivocally, the State of Israel under full political law, rather than leave it to IDF governance.
According to Katz, this small move - which would include Ma'ale Adummim, Beitar Illit, Givat Ze'ev, and most of Gush Etzion - could pave the way for full annexation of Judea-Samaria. 
Katz says that the model for this is European capitals, such as London or Paris - all of which have metropolitan areas which are taken for granted as being part of the city. 
Katz is convinced that the idea of ​​expanding Jerusalem is impossible for the Left to oppose in any meaningful way, as all parties have agreed on similar moves in the context of a future peace deal. 
The minister's assertions surface amid tensions over Jerusalem's future, both politically and practically.
Earlier this month, Housing Ministry figures revealed that the housing crisis has deepened - in no small part due to a "covert" building freeze in Jerusalem and Judea-Samaria - and pressure is being put on opponents to sovereignty to ease the burden for thousands of young couples without affordable housing. 
Meanwhile, the green light has been given for rampant illegal construction in Arab neighborhoods of Jerusalem - an attempt to establish facts on the ground to divide Jerusalem and establish the groundwork for a Palestinian state.