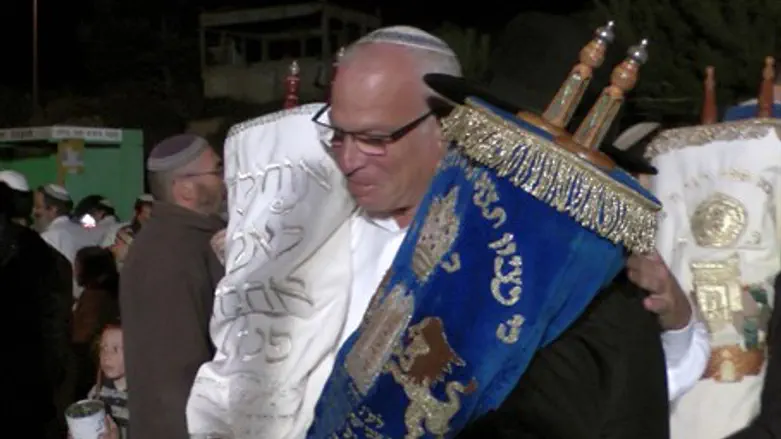 Uri Ariel at Givat Assaf
Meir Sela
Jewish Home Housing Minister Uri Ariel and MKs Shuli Moalem-Refaeli and Moti Yogev on Thursday evening were in the Samaria community Givat Assaf, which has been threatened with destruction, for the second hakafot celebrations at the end of Simchat Torah.
While there Ariel addressed Prime Minister Binyamin Netanyahu directly, saying "enough of the (construction) freeze, this word is a foreign and difficult word. In the land of Israel we don't freeze anyone, in the land of Israel we only build, and I call on him (Netanyahu) to build the land of Israel in all its parts and regions."
This was in fact the third time - and the second time this week - that the housing minister has acknowledged his coalition government is conducting a building freeze on Jews in Judea, Samaria and eastern Jerusalem, and vowed to stop it.
In the Samaria town of Itamar on Sunday, Ariel said "the lack of building is understood G-d forbid as a prize to terror, and I turn to the prime minister and say to him: don't bring us to a trying experience, don't let the situation of this coalition and the government be undermined because of the building freeze. Start to build."
Likewise, Ariel said back in May "there will be no more freezes, we will not accept delays and restrictions in Jerusalem, Judea and Samaria, and we will continue to build in all parts of our country."
Despite his frequent protestations, his role as housing minister and his party's prominent position in the coalition, the freeze has continued unabated, blocking the natural growth of communities for hundreds of thousands of Jews amid a severe housing crisis.
Jewish Home has likewise faced criticism for speaking against the release of 78 terrorists as "gestures" during the peace talks, but staying in the coalition government that released them.
"Givat Assaf shall overcome"
In Givat Assaf, Ariel also discussed the challenges facing the town; nearly all of the town has been purchased and registered in the state land registry by residents, and further there are no Arab complainants claiming ownership of the land. But last month the state reversed its position, telling the Supreme Court it doesn't plan to recognize the town.
"After there was a murder here and then another murder we couldn't abide by the way Jewish blood became abandoned," said Ariel. "It is true this community is facing great difficulties, but Beit El and other communities also overcame them."
Praising the members of the community, Ariel said "fortunate are we that you are our settlers, our sons and our fighters. With G-d's help, this year we will merit to establish here a fixed community as this place deserves."
Moalem also spoke at the event, saying "coming to Givat Assaf for me is first of all a connection to the wonderful people who for many years have carried this community on their backs. Families, single men and women who really come from a true place of memory in remembering the secret of redemption."
The MK also backed Ariel's statement against the freeze, saying his words "are really simple and clear to the prime minister, to the security minister, to the state attorney: change the tune. In Givat Assaf we must normalize it as a fixed community, to allow here the building of fixed homes, to allow many additional families who want to come here to do so and build their homes."
Regardless of the freeze, it evidently hasn't been enough to satisfy UN Secretary General Ban Ki-Moon, who on Monday in Ramallah said "we must tackle the root causes of instability. We must give renewed attention to the West Bank. I once again strongly condemn the continued settlement activity by Israel."