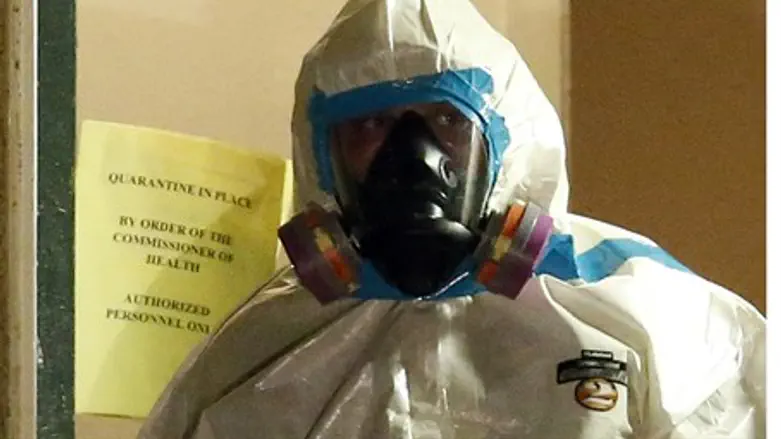 Dallas Ebola health worker (file)
Reuters
Prime Minister Binyamin Netanyahu held an evaluation on Thursday evening to check state agencies' preparedness for the Ebola epidemic currently spreading around the globe.
Present at the consultation were Health Minister Yael German (Yesh Atid), Health Ministry Director Gen. Prof. Arnon Afek, and Ben Gurion International Airport Director Shmuel Zakai.
In the meeting, a briefing was held on an exercise that will be held at the international airport on Friday, simulating the arrival of a passenger infected with the Ebola virus. During the drill, initial questioning as well as evacuation and hospital treatment will be simulated.
Netanyahu instructed preparations for Ebola to be increased at all points of entry into Israel, including through preventive measures such as taking the temperature of passengers arriving from West Africa and other areas where there is concern over the spread of Ebola.
Part of the preparation for Ebola has included coordination with the Palestinian Authority (PA), including a joint meeting held Saturday night.
The recent Ebola epidemic centered in West Africa has already infected around 9,000 people, and killed nearly 5,000. While the disease generally has a mortality rate of 50%, the World Health Organization (WHO) on Tuesday assessed that with unreported figures included the current rate is a whopping 70%.
WHO also warned that by December, some 10,000 new people are liable to infected by the virus in West Africa every single week, as the disease continues to spread.
The virus has spread globally as well, with two health workers in Dallas, Texas, contracting the disease after treating a Liberian national who brought Ebola to America. On Tuesday, a UN worker infected with Ebola died after travelling to Liberia to treat the disease.
There have also been several cases of infected British nationals recorded in Macedonia to the north of Greece, and a Spanish nurse who became the first to contract Ebola outside of West Africa last week.