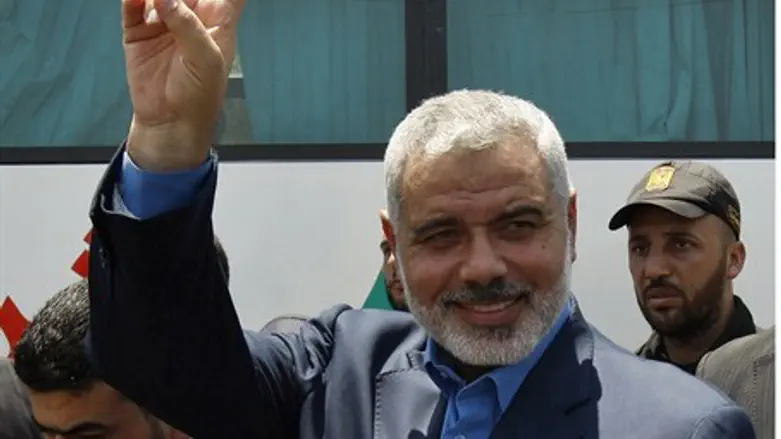 Hamas leader Ismail Haniyeh
Reuters
A clandestine meeting of terrorists was held in the suburbs of the Lebanese capital of Beirut between a senior Hamas official and senior Hezbollah members, according to reports on Wednesday.
The official brought a message from Hamas political bureau leader Mahmoud Al-Zahar, who reaffirmed the strong ties between the two Iran-backed terrorist organizations, according to reports in the Hezbollah-affiliated Lebanese Al Akhbar as cited by Yedioth Aharonoth.
In response, Hezbollah officials reportedly said the ties between the two groups are "better than what many imagine." According to the Hezbollah news source the visit was unofficial.
The two groups, while both being terror groups funded in large part by Iran, have many sharply contrasting positions, starting from Hamas being a Sunni terror group and Gaza offshoot of the Muslim Brotherhood, and Hezbollah being a Shi'ite terrorist organization.
They have been at odds over Hezbollah's participation in the Syrian civil war, in which it has sided with Syrian President Bashar Assad of the Alawite minority against the mostly Sunni rebels.
However, the two terror groups are unified in their wish to destroy the Jewish state of Israel.
Hamas unveiled terror tunnels into Israel in its most recent terror war, and with construction materials being allowed in by Israel in large quantity starting Tuesday and $5.4 billion pledged by international donors on Sunday, the group continues to rebuild those terror tunnels to attack Israeli civilians.
Al-Zahar himself said on October 1 that if Hamas could get control of parts of Judea and Samaria it would be able to destroy Israel quickly.
For its part, Hezbollah apparently joined in the rocket attacks on Israel during Operation Protective Edge, and last Tuesday wounded two IDF soldiers by detonating two explosives set on the Israeli-Lebanese border near Har Dov.
Security sources warn Israel may be in danger of "losing control" of the Lebanese border, and several senior IDF officers have raised concerns about possible terror tunnels Hezbollah may be digging along the border. The IDF has refused to acknowledge those concerns publicly, instead launching a private investigation into the issue.