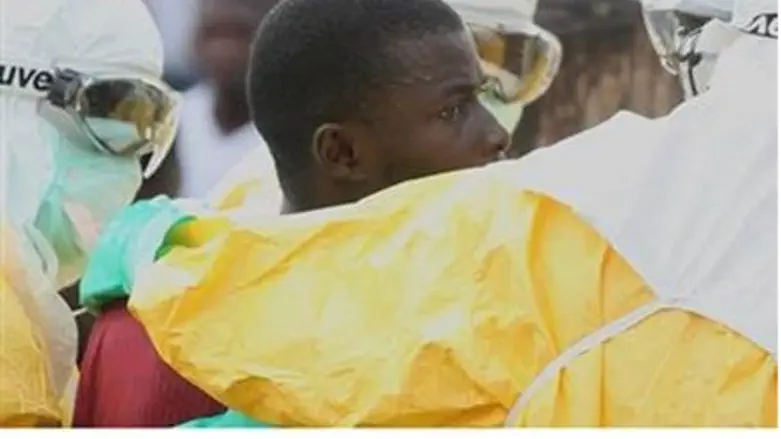 Ebola patient in Liberia (file)
Reuters
The World Health Organization released an updated projection on Tuesday of the Ebola epidemic gripping the globe, and warned that by December the lethal virus may infect as many as 10,000 new people per week in West Africa.
That figure represents more infections each week that the total 8,914 reported cases overall up until this point; according to WHO assistant director-general Dr. Bruce Aylward "we will go over 9,000 cases this week."
It also indicates a tenfold increase in the rate of infection than the current rate, reports CNBC. The prediction is based on multiplying the figure in Guinea, Sierra Leone and Liberia to account for under-reporting.
The shocking increase in infection comes even as Aylward noted new infections seem to be slowing in the West African nations where the disease is centered and 95% of cases have occurred. He warned it is too early to label that trend a success, and that the disease appears to be widening its spread in the countries and approaching their borders.
Aylward added new infections could range anywhere from 5,000 to 10,000 a week in West Africa by December, saying "it could be higher, it could be lower but it's going to be in that ball park."
70% mortality rate
The new figures are particularly worrying as officials revealed the mortality rate of the current outbreak is higher than the usual 50% rate of the virus, instead proving to be as high as 70%.
WHO officials noted the death toll has already reached 4,447, terming it a "high-mortality disease." Aylward added "a lot more people will die" unless efforts to fight the disease are increased.
Shortly after Aylward's troubling predictions, Facebook founder Mark Zuckerberg revealed that he had donated a $25 million grant to the Centers for Disease Control Foundation to fight the Ebola outbreak.
That outbreak has reached American shores, transmitted by Thomas Eric Duncan of Liberia who died last week after showing symptoms late last month while visiting family in Dallas, Texas.
In the hospital where Duncan was being treated, 26-year-old nurse Nina Pham continues to receive treatment after contracting the disease from him in the first case of Ebola being contracted in the US.
As part of her treatment, Pham has been given a plasma transfusion from Dr. Kent Brantly, who survived the virus recently. Brantly's blood was previously donated to Dr. Rick Sacra, who survived his brush with the dease, and Ashoka Mukpo, a freelance NBC News cameraman who got the disease on his first day on the job in Liberia.
While Pham may have been the first to contract the disease in America, a Spanish nurse became the first to contract it outside of Africa last week - she remains in critical condition but reportedly has shown improvement.
In Sierra Leone, the disease showed just how destructive in can be, as an entire battalion of 800 local soldiers were put in quarantine after one was diagnosed with Ebola. The group was supposed to travel soon to Somalia to relieve a group of UN peacekeepers there.
The incident highlights the fears raised by military experts, warning that Islamic State (ISIS) terrorists could potentially be able to harness the Ebola outbreak and turn it into an extreme bio-terrorism weapon.