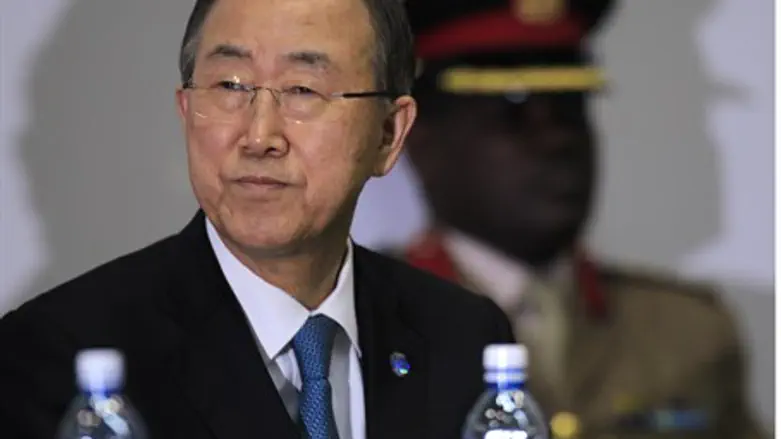 UN Secretary-General Ban Ki-moon
Reuters
United Nations (UN) Secretary General Ban Ki-moon said on Sunday that the "occupation" is responsible for the recent war in Gaza.
Ban, who spoke at the international donors' conference on rebuilding Gaza in Cairo, was quoted by The Associated Press (AP).
"We must not lose sight of the root causes of the recent hostilities: A restrictive occupation that has lasted almost half a century, the continued denial of Palestinian rights and the lack of tangible progress in peace negotiations," he said, according to AP.
"I call on all parties to come together to chart a clear course toward a just and final peace," Ban added. "Going back to the status quo is not an option; this is the moment for transformational change."
The UN chief also told the donor conference that he would visit the Gaza Strip on Tuesday "to listen directly to the people of Gaza". He added he would also visit Israel "shortly."
Ban's comments regarding Israel are not the first time that he has pointed an accusing finger at the Jewish state.
In July, as Israel's self-defense Operation Protective Edge was going on, Ban condemned Israeli operations in Gaza as "atrocious" and called for Israel to "do far more to protect civilians."
He later said that the UN "strongly" condemns rocket attacks, but also urged Israel to exercise "maximum restraint."
Last year, Ban admitted that the UN is biased against Israel, but he later backtracked on those comments.
Meanwhile, ample evidence has proven that Hamas uses UN and other aid money, as well as materials, to build terror tunnels into Israeli territory with the aim of attacking Israeli citizens, instead of providing buildings to its own citizens.