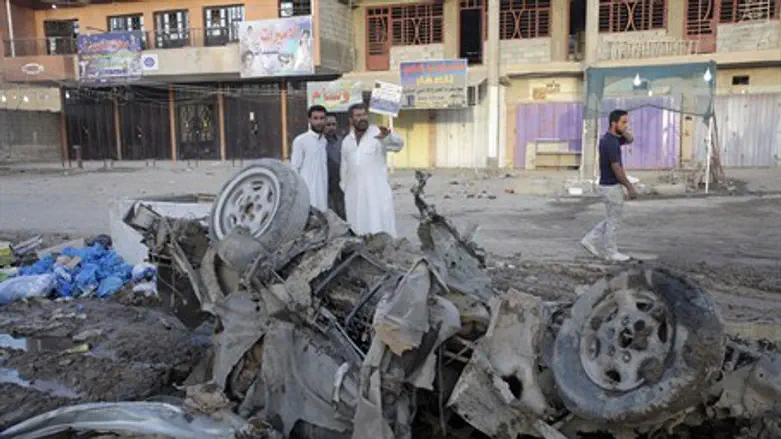 Scene of Baghdad car bombing attack, 7/8/13
Reuters
A series of car bomb attacks in Baghdad, Iraq's capital, killed 38 people in Shiite areas Saturday, authorities reported to Associated Press. 
Police officials said the first attack happened Saturday night when a suicide bomber rammed his explosive-laden car into a security checkpoint in Baghdad's northern district of Khazimiyah. The blast killed 13 people, including three police officers, and wounded 28.
The second car bombing, targeting a commercial street in the Shula district in northwestern Baghdad, killed seven people and wounded 18, police said. Additionally, the bomb caused damage to several shops and cars.
Also in Shula, police reported, a suicide car bomb attack on a security checkpoint killed 18 people and wounded dozens of others.
Hospital officials confirmed the figures for the attacks. All officials spoke anonymously due to their lack of authorization to brief journalists.
So far, no one has claimed responsibility for the attacks, yet Sunni insurgents frequently target Shiites, whom they consider heretics. Those targeting Shiites now also include the Islamic State (ISIS), which controls about one-third of Iraq. 
Also on Saturday, the governor of Iraq's Salahuddin province revealed that Islamic State terrorists killed Raad al-Azzawi, a cameraman for Iraq's Salahuddin Television, reportedly abducted last month. Raed Ibrahim, the governor, said militants killed Azzawi on Friday in the city of Tikrit but could provide no further details. 
The Islamic State has beheaded a number of journalists in recent months, stating that the killings are retaliation for US airstrikes against them in Iraq and Syria.
Airstrikes continued Saturday as well, with one occurring north of the town of Tal Afar, hitting a small Islamic State fighting unit, and two others northwest of Hit in the Anbar province.