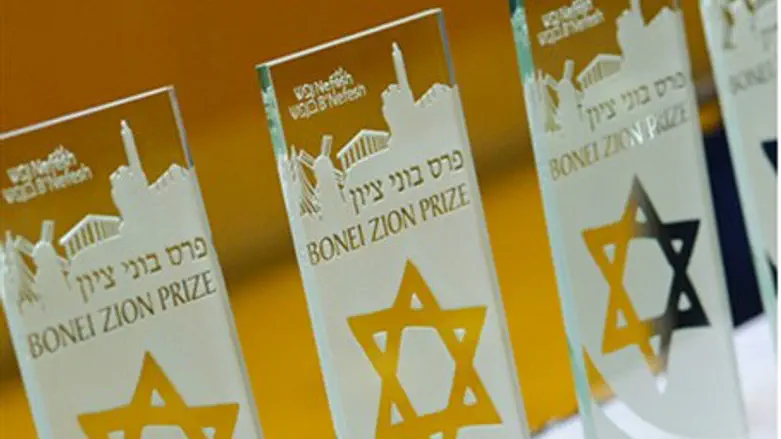 Bonei Tzion
Nefesh B'Nefesh
Nefesh B'Nefesh is now receiving nominations for the second annual Bonei Zion Prize. The $10,000 award recognizes Olim from English-speaking countries who have made significant contributions to the State of Israel in the fields of science and medicine, community and non-profit, education, IDF and national service, entrepreneurship and technology, and culture, sports, and art.
From a founder of Ben Gurion University's Faculty of Medicine to a young soldier who ensured that humanitarian aid reached civilians in Gaza, seven Olim with diverse achievements received the Bonei Zion Prize at a Knesset ceremony in May 2014. 
And in the few months since being awarded the prize, many of the winners already have new achievements to share.
This summer, solar energy pioneer Yosef Abramowitz's company, Energiya Global launched its first commercial-scale solar field in Africa. Announced by the Rwandan government in mid-September, this project, which was headed by managing director Chaim Motzen, was four years in the making. 
"Israel can be an emerging super power of goodness in the world," said Abramowitz. "These innovations in the developing world can help Israel pivot from an uncertain political climate and business climate."
Joseph Gitler, founder and chairman of Leket Israel, Israel's National Food Bank and largest food rescue network, had to find a solution for the lack of food coupled with an increase in demand this summer, due to Operation Protective Edge. The organization decided to do something it had never done before and purchased food from vendors in the south. This strategic move not only enabled Leket to feed the poor, but also boosted southern businesses' economic well-being. 
Rabbanit Malke Bina, founder of Matan, a revolutionary women's Jewish learning center, was immersed in running educational programs all over Israel when the son of Racheli Frenkel, one of the center's graduates and teachers, was kidnapped.  In addition to organizing the Tel Aviv rally in support of Naftali, Eyal and Gilad, the women of Matan ran a day of learning in memory of the boys – attended by 700 women, and packaged food for soldiers fighting in Gaza.
"Being there for Am Yisrael, helping the chayalim [soldiers], and giving respect to those who gave their lives were integral to our learning," said Bina.
For Dry Bones creator Yaakov Kirschen, the prize has enabled him to produce more Zionist cartoons and reach a greater audience at a critical time. "While Israel faced denigration and isolation, Dry Bones was able to bring people together," said Kirschen. "A good deal of credit for that goes to Nefesh B'Nefesh."
The Bonei Zion Prize is open to people who made Aliyah from English-speaking countries since 1948. To nominate an Oleh/Olah whose work has impacted Israel in significant ways, please visit www.boneizion.org.il. The application deadline is December 15, 2014.