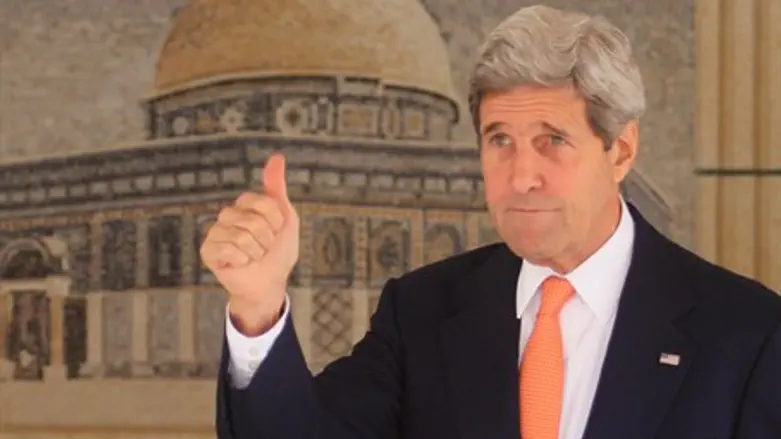 John Kerry
Flash 90
US Secretary of State John Kerry may have had his efforts to force peace talks on Israel and the Palestinian Authority (PA) foiled in April when the PA signed a unity deal with the Hamas terror group, but officials say that won't stop him for calling for a return to talks on Sunday.
Kerry is to take part in the Cairo international donor conference aiming to gather billions of dollars to rebuild Gaza after the latest Hamas terror war on Israel - he will be joined by 30 other US diplomats, along with UN Secretary General Ban Ki-Moon, and many other officials.
On the sidelines of the conference, Kerry is to meet with PA Chairman Mahmoud Abbas, after recently meeting him last month at the UN General Assembly where Abbas accused Israel of a "war of genocide."
"You will hear the secretary reaffirm the commitment of the United States to helping the parties achieve a negotiated two-state solution and our willingness to re-engage in the negotiations and help facilitate successful negotiations," a State Department official said.
"More broadly we are interested in sort of breaking the cycle we have been in in the last six years of war and reconstruction there," added the official.
In response to the first PA unity government cabinet meeting held last Thursday in Gaza with the attendance of Hamas, the White House praised the meeting as a "positive step in the right direction."
That came despite the fact the US previously claimed Hamas was not represented in the unity government to justify its supportive stance towards it - even though one of the unity government ministers was previously the education minister in Hamas's Gaza government.
The UN is posed to ask for $1.6 billion to reconstruct Gaza at the conference, while the PA unity government in its Gaza meeting decided to demand a whopping $4 billion, aside from $4.5 billion for itself to keep the government afloat in its massive debt.
However, a Western diplomat speaking on condition of anonymity last Friday warned there was "considerable donor fatigue."
"We have seen infrastructure projects that we have contributed to which have been destroyed," the diplomat said, adding that skepticism had existed even before the recent conflict.
Many fear the money will once again be funneled for terrorism and to pad the pockets of officials, particularly after a Fatah spokesperson recently accused Hamas of stealing $700 million in international funds.
Indeed, Hamas and Islamic Jihad have already started rebuilding the terror tunnels into Israel to attack Israeli civilians.
AFP contributed to this report.