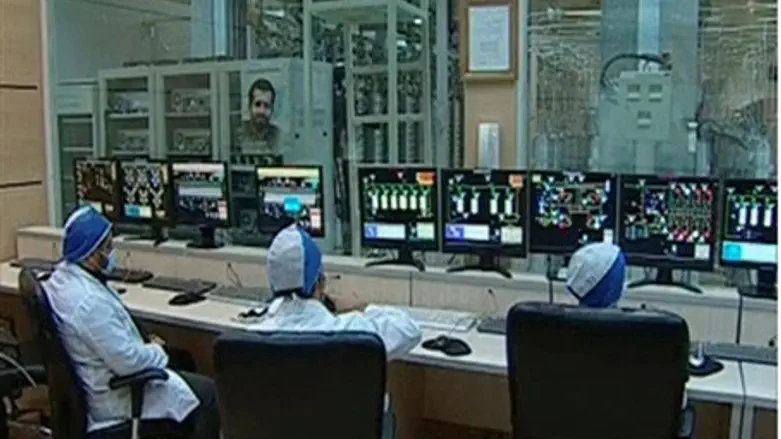 Iranian nuclear facility (file)
Reuters
As Iran continues negotiations with world powers on its nuclear program ahead of a November 24 deadline, members of an Iranian opposition movement revealed Wednesday that the Islamic regime is continuing its nuclear weapon research at a secret location.
According to the Iranian resistance movement in exile Mujahedin-e Khalk, also known as MEK, Tehran is developing nuclear weapons after having relocated its research facilities to avoid detection, reports the Associated Press.
MEK cited unidentified Iranian government sources in saying that "in recent months" Iran's Organization of Defensive Information and Research (SPND) moved the most sensitive weapons research programs to a new Tehran location.
The opposition group named Mohsem Fakhrizadeh as being a Revolutionary Guard brigadier general who heads SPND.
When the US announced sanctions on SPND in August, the US named the group as being "primarily responsible for research in the field of nuclear weapons."
The revelation surfaces after reports on Monday said an explosion at the Parchin nuclear plant killed at least two, including an unnamed "nuclear expert."
When it finally released an official comment, Iran admitted there was an "incident" at the plant and two people were "missing," but refused to call the incident an explosion. The statement also claimed there was no nuclear work being done at the site.
However, the opposition Sahamnews outlet claimed the blast was so powerful it shattered windows some 15 kilometers away from the site. Iran has refused to allow International Atomic Energy Agency (IAEA) inspectors to access Parchin since 2005, and both opposition figures and others have accused the regime of using the site to house an illegal nuclear weapons program.
Last month, Israel's Intelligence Minister Yuval Steinitz said he had "reliable information" that Parchin was being used for secret tests of technology that could be used only for detonating a nuclear weapon.
That assessment was backed by Prime Minister Binyamin Netanyahu, who in his recent tour of America told Fox News that Iran is "making bombs. That's what they're trying to do. That's what they're whole program is about, making bombs."
Regarding Iran's nuclear aspirations, Iranian Supreme Leader Ayatollah Ali Khamenei back in January publicly revealed that the negotiations with the US about Iran's nuclear program are merely a tactic to stall international pressure and gain time to continue nuclear development.