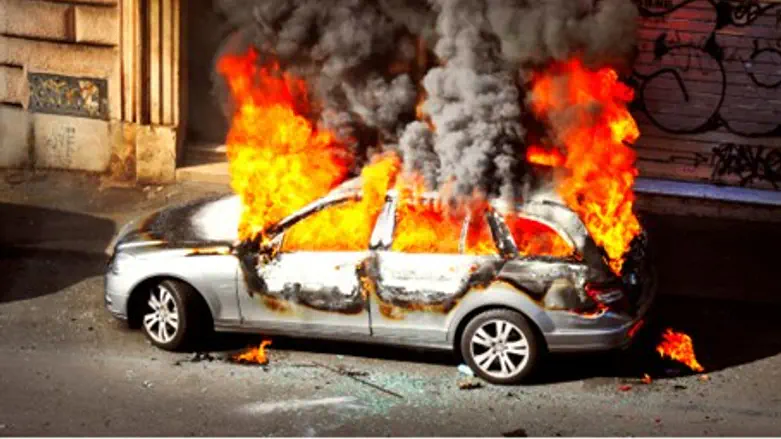 (Illustration)
Thinkstock
A blast rocked the coastal town of Petah Tikva's Stampfer Street on Monday morning, after a car filled with hundreds of spark plugs exploded.
However, despite the mighty blast that set the car on fire and burned it down, the owner of the car was miraculously saved - thanks to his car breaking down.
Police arrived on the scene where they found the car had gotten stuck and broken down, at which point the driver exited the vehicle. Shortly afterwards the spark plugs blew up, apparently due to a gas leak from the plugs according to Yedioth Aharonoth.
While the 42-year-old driver survived the blast, he was left with moderate burn wounds on his upper body, and evacuated by Magen David Adom (MDA) paramedics to Beilinson Hospital in the city.
"When we arrived we saw a car standing in the middle of the road, it looked like the scene of a terrorist attack," said MDA emergency medic Pavel Belzer, who treated the man. "The doors of the car were blown off and bent, and the front and back windshields flew off."
"It appeared that the occupant of the car was seriously wounded, but to our joy we found a 42-year-old man fully conscious, upright and walking towards us while suffering from first- and second-degree burns to his upper body," added Belzer. "We gave him first aid treatment on the scene and transferred him for continued treatment at the hospital."
Another car exploded in Petah Tikva this February - however, in that case the cause of the blast was far less benign, as the remains of an explosive device were found in the wreckage.
The occupants of the car were less fortunate in that case as well, with both of the two dying, and four others in the area including a three-year-old girl wounded by the flying debris.
Police suspected the blast was a criminal assassination or "work accident," in which criminals transporting explosives had their handiwork literally back-fire on them.