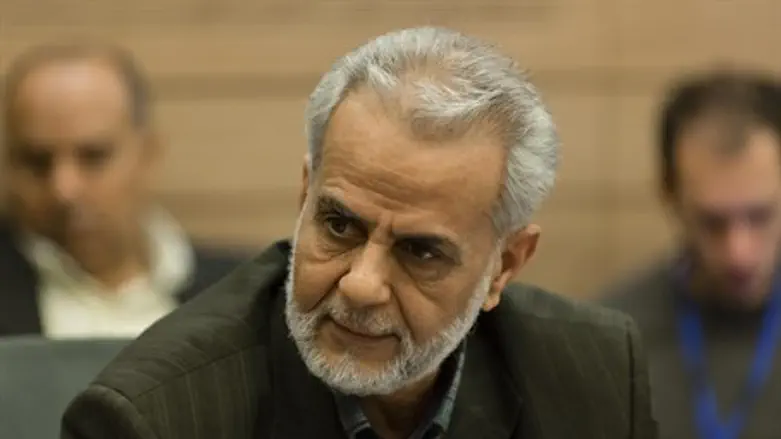 Ibrahim Sarsour
Flash 90
After Arab MK Mohammed Barakeh (Hadash) said Israel is like the Islamic State (ISIS) terror group, and Palestinian Authority (PA) chief negotiator Saeb Erekat likened the Jewish state and "Islamic state,"Arab MK Ibrahim Sarsour (Ra'am-Ta'al) has now raised the bar.
Sarsour, who heads his Arab Islamist party, was asked what its position is on ISIS by Prof. Marwan Dwairy of the Oranim Academic College located near Haifa. According to the Arab member of Israel's Knesset, Israel is "crueler" than the brutal jihadist regime.
The MK began his response by saying he considers the terrorist groups Muslim Brotherhood and its Gaza offshoot Hamas to be "moderate" Islamic movements that are being "pursued" in Egypt, Syria and the Gulf States. 
"We must be careful not to fall in the snare of demagogy which the Zionist-American-Arab union has adopted in dealing with ISIS, and which at its core is an all-out war on the Islamic political enterprise," said Sarsour.
That "all-out war," according to Sarsour, does not distinguish between "extremists" like ISIS and Al Qaeda "and the groups accusing Muslims who don't follow their way of heresy," or supposedly "moderate peace advocates" who are so defined in terms of how they deal with their own people "and not with their enemies who attack them."
According to Sarsour, such moderates include "the Muslim Brotherhood and Hamas."
The definition of Hamas as being "moderate" in dealing with its own comes just after Prime Minister Binyamin Netanyahu told the UN Security Council on Monday that Hamas is the same as ISIS, giving the example of brutal executions Hamas commited against "it's own" residents of Gaza in the last operation.
"Crueler" than ISIS
And then Sarsour pulled out all stops in his answer.
"We think that the United States, the Saudi kingdom, Israel and their confederates in the region and the world are crueler than ISIS," said Sarsour.
The comparison comes despite the fact that not only has ISIS been conducting very public beheadings of a string of captive westerners, it has been committing horrific atrocities and torture against religious minorities and Muslims it disagrees with throughout the parts of Syria and Iraq under its iron grasp.
Sarsour likewise attacked the division of the Islamic and Arab world into dozens of states, calling it the implementation of "colonialist initiatives" and the "Sykes Picot initiative," favoring a united Islamic caliphate instead.
"We support one united state in the Arab world as preparation for one united state in the entire Islamic world of 1.4 billion people," said Sarsour, terming the first as the "United Arab States" and the latter stage as the "United Islamic States."
"I want a civilian state that will operate according to the path of the prophets and caliphates that go on the upright path," concluded the Arab member of the Knesset of Israel.