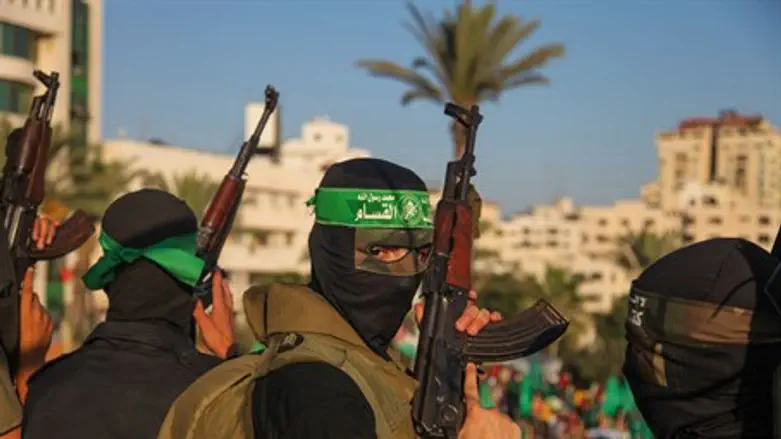 Hamas terrorists in Gaza
Flash 90
The Palestinian Authority (PA) "unity government" has released a $4 billion reconstruction plan for Gaza ahead of the October 12 donor conference - but the donors would be well advised to peruse a recent Middle East Media Research Institute (MEMRI) report featuring a TV interview on the PA's Al-Awda TV channel.
In the segment, Fatah spokesman Ahmad Assaf accused Hamas leaders of illegally diverting money collected for the children of Gaza.
The Fatah spokesman opined that international donors are right to be wary about wasting money on the reconstruction of Gaza: "The international players listen to the (Hamas) statements, and they have the right to ask: 'If we are on the verge of another war, why should we pay billions on the rebuilding of Gaza?'"
Assaf went on to claim that during the latest Gaza war, "the Hamas leaders in Gaza received 700 million dollars. I take full responsibility for what I am saying. This figure is well documented, and we know the money sources.
"Hamas collected money from all over the world. Where is it? We have seen televised fundraisers by Hamas supporters and allies, in which hundreds of millions were collected. Can anybody tell me where the money went?"
"In the name of the blood of the children and the destruction of Gaza, Hamas and the Muslim Brotherhood collected money all over the world. They received 700 million dollars, which went into the Gaza Strip, but they did not give a single cent to the people of Gaza. The Hamas leaders took it all."
With a population estimated at 1.8 million, a $4 billion aid package would mean that more than $2,200 would be paid for every single Gazan man, woman and child.