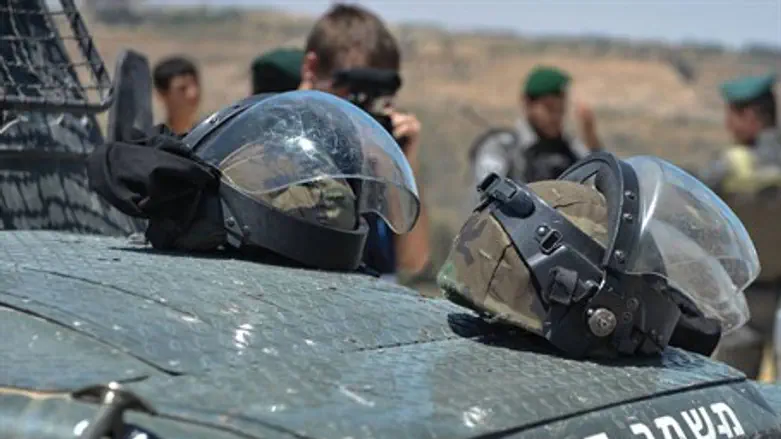 Border Patrol officers at Tapuach Junction
Police Spokesperson Unit
Border Patrol officer First Sgt. Almog Ohana, commander of the checkpoint at Kfar Tapuach in Samaria, revealed on Thursday how his forces managed to subdue two Arab terrorists earlier in the day as they tried to conduct a terror attack at Tapuach Junction.
The two Arab youths in their twenties arrived at the bus station adjacent to the checkpoint from the direction of Shechem (Nablus), reports Ohana, noting he sent two troops to check the pair. "At the start they claimed they were headed for Ramallah," he added.
During the check, Ohana recounts that one of the terrorists tried to pull an improvised pistol on the officers: "a Border Patrol officer cocked her weapon and aimed at him (the terrorist) while another officer with her knocked the pistol from the terrorist's hand."
"The two suspects were arrested at the scene," said Ohana. "The forces noticed a black backpack on one of the suspect's backs; he refused to comply with their demands to open it."
Ohana continued: "the soldiers identified wires in the bag, understood it was an explosive, isolated the area and distanced civilians that were at the station while calling up bomb disposal units."
Several minutes later the terrorists were transported for investigation by general security services, as large police, Border Patrol and IDF forces arrived to close off the scene.
Judea and Samaria district Border Patrol bomb disposal units succeeded in neutralizing the explosives, which consisted of a total of three separate bombs. In addition to the pistol and the explosives, knives were also found on the possession of the terrorists.
Police superintendent Asi Yona, commander of the Border Patrol company manning the Tapuach checkpoint year-round, said "thanks to the awareness and professionalism of the fighters and their brave action of striving for contact (with the terrorists), it appears a large attack was prevented and lives were saved."
Weapons seized from the terrorists Police Spokesperson Unit