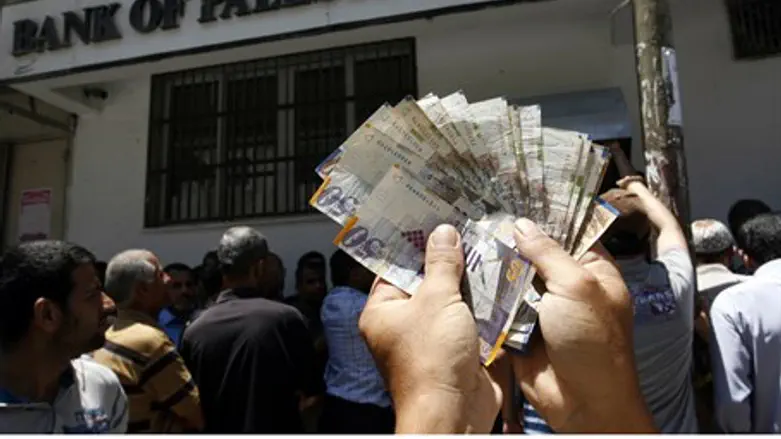 Money at Gaza's 'Bank of Palestine'
Flash 90
The Palestinian Authority (PA) unity government on Thursday released a reconstruction plan for Gaza ahead of an October 12 donor conference, in which it called for international donors to fork over $4 billion to rebuild after the terror war launched by Hamas.
The 76-page report, released ahead of the donor conference in Cairo, said $4 billion would be needed for the "direct costs" of rebuilding the terrorist enclave, reports AFP.
The demand comes despite several reports that Hamas and Islamic Jihad terrorists have already started rebuilding terror tunnels used to attack Israel, which were built from materials brought in previously for supposed civilian needs.
According to the plan, dubbed The National Early Recovery and Reconstruction Plan for Gaza, $1.9 billion is needed for public and private infrastructure repairs, and $1.2 billion for "reactivating economic productivity."
Around a month ago the UN released figures saying $550 million would be needed to rebuild Gaza; the explanation for the discrepancy between that amount and the unity government figure, which is roughly eight times more, remains unclear.
The plan adds the priority of repair efforts would be the "removal of rubble and removal of ERWs," or unexploded shells and missiles from the war, which it claimed number 5,000 inside Gaza. It would then repair Gaza's power station, work on access to drinking water, healthcare and education, with the "largest expenditure" being on housing.
"Free movement of people and goods will catalyze Gaza, catapulting it from its current crisis into socio-economic sustainability. Freedom of access must be guaranteed. The borders must be opened. Trade must flow. People must travel," the report added.
Indeed Israel has already allowed 500 Gaza residents to travel to Jerusalem to pray on the Temple Mount, something Jews are forbidden by the Jordanian Waqf (Islamic trust) which enjoys de facto rule from doing, and has increased the access for merchants and visiting families.
The report also called for an additional $4.5 billion in budget support to the PA unity government to maintain reconstruction and support government institutions in Gaza, Judea and Samaria.
PA Chairman Mahmoud Abbas's Fatah faction and Hamas agreed last month that the unity government would start managing Gaza in the rebuilding effort.