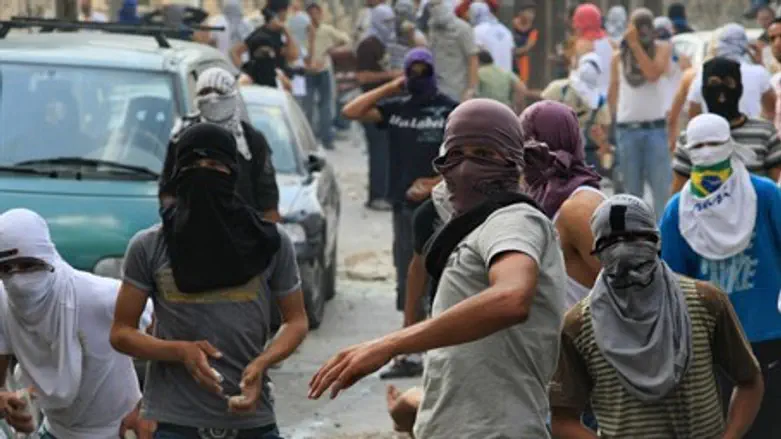 Arab rioters in Jerusalem (file)
Flash 90
The security situation in Jerusalem continues to be unbearable for many Jewish residents, as every day brings another story of Arab violence against Jews. At around 2:00 p.m. Thursday, a young married woman in her 20s and three girls aged 16-17, all residents of Maaleh Zeitim, were surrounded by a rock-throwing mob in A-Tur. The woman was driving the girls home after school.
According to M., who also lives in Maaleh Zeitim, the driver had decided to take the less-used road through A-Tur because the Old City is full of traffic due to the holiday and tourist season. "In addition, there were riots recently near Shaar Shchem (the Damascus Gate); the Wadi Joz road is trafficky and also runs through an Arab neighborhood, so they decided to take the a-Tur road. It's not a road that we drive through a lot but they thought this was their only option."
"There was a lot of traffic," M. told Arutz Sheva. "They noticed that a crowd was forming behind their car. They felt that something was going on, and the feeling was verified when a rock hit the car. As Jerusalem residents – this in itself is something we are familiar with. It has happened to all of us before.
"They tried to press forward in traffic, but meanwhile, they saw that a crowd was coming toward them. They called security. They called the Mount of Olives hotline but it simply does not pick up the phone. They called the police, who tried to get them to describe their exact location, but the call got cut off. The police called them back, and tried to get some information about where they were and what was going on, but did not give them any advice.
"More rocks were thrown at the car, until the windows were smashed. Glass and rocks started falling on the girls in the back seat. The girls put their schoolbags over their heads, to keep from getting hurt. This worked, more or less – but one girl was hurt a bit in the back by rocks. The two girls who sat in the back were taken to Shaarei Tzedek and Hospital they are OK – no lasting injuries. Not physical, anyway.
The girls are very angry
"As the crowd got closer they tried not to panic. The mob surrounded the car – and one of the attackers threw a rock that a girl described as being 'the size of a round watermelon.'
"The driver tried to make a U turn, but would have had to run over people to do this. She screamed at police that if they don't come she will simply run over everyone. A car blocked them from behind, maybe on purpose, maybe not. Suddenly, they noticed that traffic had opened up a little and they drove out of the jam. The driver then saw a police car stuck in traffic. Shaking, she got out of the car, and demanded a police escort, saying she refused to go anywhere unless police came along with her. Two Border Policemen got in the car and they continued until they reached a more quiet place. There, they finally received the attention of police and medical personnel."
"I spoke to one of the girls," M. told Arutz Sheva, "and they are very angry. They are angry that they are not afforded the protection that they deserve, as children who are simply going home from school. She asked why schoolchildren are not protected."
Attempts to improve security in the Mount of Olives and Mount Scopus areas by creating a greater police presence, adding security cameras, creating a shuttle service for students at the university, and other measures, are simply not working. Faced with ongoing rock attacks on the Light Rail in the "seam line" neighborhoods, Jerusalem Mayor Nir Barkat recently advocated simply hushing up the matter. Jerusalem Councillor Arieh King noted, in a tour conducted by Knesset Members, that as long as police are afraid to demolish illegal homes in hostile Arab neighborhoods like Issawiya, creating deterrence against rock-throwing is nearly impossible.
Arab rioters hurling rocks, fireworks and molotov cocktails at a Jewish infant day care center on Ma'ale Hazeitim, the Jewish neighborhood on the Mount of Olives in Jerusalem, were caught on film on Tuesday in further testimony to the ongoing "silent intifada" in the capital.
The video, which was posted by King to his Facebook on Tuesday, shows four Arab criminals throwing various of projectiles with impunity for many long minutes from a protected nook on one of the rooftops, forcing infants to be rushed inside to bomb shelters.
In the video a woman can be heard saying "you don't even see a single police officer here," as the rocks continue to hail down - reportedly the police took seven minutes to arrive. The women then can be heard shouting to the police to go up to where the Arab attackers were pelting rocks.
After Border Patrol officers begin to fire crowd dispersal charges between eight and ten rioters are seen running away from the scene.