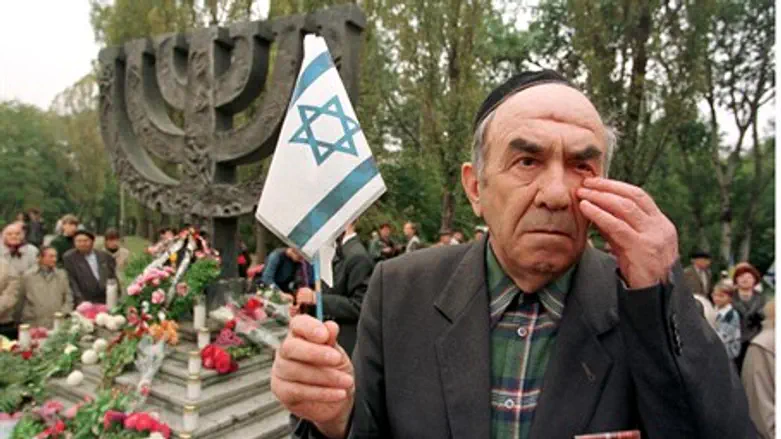 A Babi Yar survivor wipes a tear at a memoria
Reuters
Hundreds gathered at ceremonies in Sydney and Melbourne on Sunday to commemorate the anniversary of the Babi Yar massacre. 34,000 Jews were murdered in the Holocaust massacre which happened over a 2 day period in Ukraine in 1941. 
Malcolm Turnbull, Federal Member for Wentworth, addressed the crowd at Waverley Memorial Gardens, calling for zero tolerance for racism, and insisting we cannot treat the the Holocaust as something only in the past. "It is not an ancient tale. Yes, [it happened] decades ago, but the lessons must be learnt and relearnt, again and again." 
The memorial ceremony comes a few days after anti-Semitic leaflets were distributed in Sydney's eastern suburbs, including Woollahra and Edgecliff.
The leaflets propagated classic anti-Semitic stereotypes such as that Jews are a "leering hooked nosed race … [stealing] billions of our money through the Federal Reserve Bank they own," and also called for "white genocide." 
Turnbull, at the time of the incident, described the leaflets as "poisonous", and the decision to circulate them on Rosh Hashanah "a contemptible effort to frighten and intimidate Jews at one of the holiest times in the Jewish calendar." 
He referenced the anti-Semitic propaganda during his speech at the memorial service proclaiming that the Labor and Liberal parties are "absolutely, shoulder to shoulder united in our opposition, in our steadfast resolve, to oppose racial hatred and racism wherever it is found in the world but, above all, here in Australia." 
The event also saw the unveiling of a plaque in memory of the Jews of Kiev, massacred by the Nazis and their Ukrainian collaborators, and in recognition Soviet Jewish suffering. Friends of Refugees of Eastern Europe (FREE) leader Rabbi Yehoram Ulman recited the mourner's kaddish and two members of the Russian-Jewish community read extracts in English and Russian of the famous poem Babi Yar by Ukrainian poet Yevgeny Yevtushenko.
Alex Ryvchin, the public affairs director of the Executive Council of Australian Jewry (ECAJ), who was born in Kiev, thought up the idea of the plaque. It is to serve as a permanent tribute to the Jewish dead and as an inspiration to those who pass by it to learn about the history of European Jewry. 
Australian Jews have been left alarmed by a spate of anti-Semitic incidents over the summer, during Israel's 50-day military operation Protective Edge against Gaza terrorists. In one particularly shocking attack, a group of anti-Semites boarded a school bus packed with Jewish children and threatened to slit their throats.