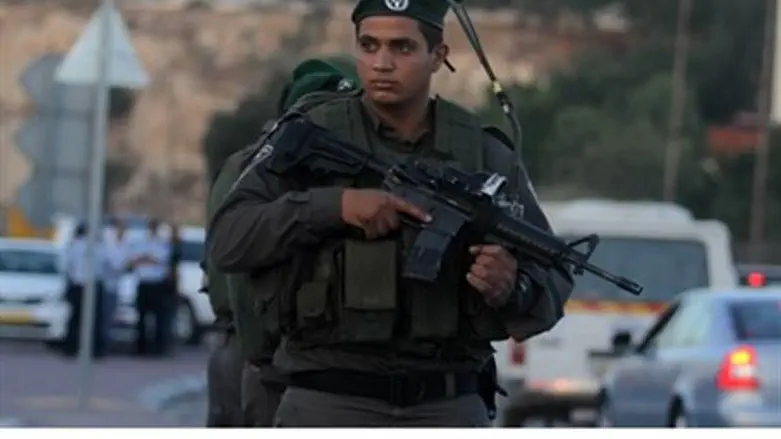 Border Policeman
Flash 90
With the coincidence this Shabbat of the Jewish Day of Repentance (Yom Kippur) and the Muslim "Festival of the Sacrifice" (Eid al-adha), police are gearing up to make sure that both communities stay out of each others' way to avoid potential clashes – especially in places like Jerusalem, where Jews and Arabs live shoulder to shoulder, and most especially in sensitive areas like the Old City.
In a press release apparently aimed at right-wing Jews, whom police fear will perpetrate so-called "price tag attacks", police said that they "will not permit damage to any religious symbol or government edifice or representation. There will be zero tolerance for anyone engaging in these acts or inciting others to do so," the statement said.
While Jews will mostly be in synagogue, police noted, Muslims around the country will have a day off, most likely frequenting the national parks and public spaces that will be more or less abandoned by Jews for the day. In addition, Muslims are expected to visit religious sites like the Temple Mount and the Machpelah Cave. Police will be deployed at these sites, as well as at the leisure sites that are expected to be filled with Muslim visitors.
Police have conducted numerous meetings with local rescue and security officials in many communities in preparation for the big days. Officials have also reached out to local Arab village and community leaders in order to ensure that tension is kept to a minimum, police said.
Meanwhile, the IDF said that it had decided to approve 500 family visits in Gaza to Palestinians residing in Judea and Samaria over the age of 60 in honor of the Muslim festival, and 200 permits for travel abroad via the Ben Gurion Airport will be given out to Palestinian Arab businessmen. 500 residents of Gaza, aged 60 and over, will be permitted entry to the Temple Mount complex for prayers on each day of the holiday. Israel has also approved exports of agriculture, including fisheries, from Gaza to Judea and Samaria.
The move comes as part of a general increase in the number of Gaza residents allowed to travel into Judea and Samaria, a gesture in the ongoing ceasefire talks between Israel and the terrorist organization Hamas, which are to resume in Cairo in the last week of October.
Meanwhile, Arab rioters have been attacking police officers and Jewish visitors to the Temple Mount, the holiest site in Judaism, on a regular basis; last Wednesday ahead of the Jewish New Year (Rosh Hashanah) that violence boiled over into wild riots. It has been revealed that Hamas has been actively fanning the violence and funding riots on the Temple Mount to create instability in Israel.