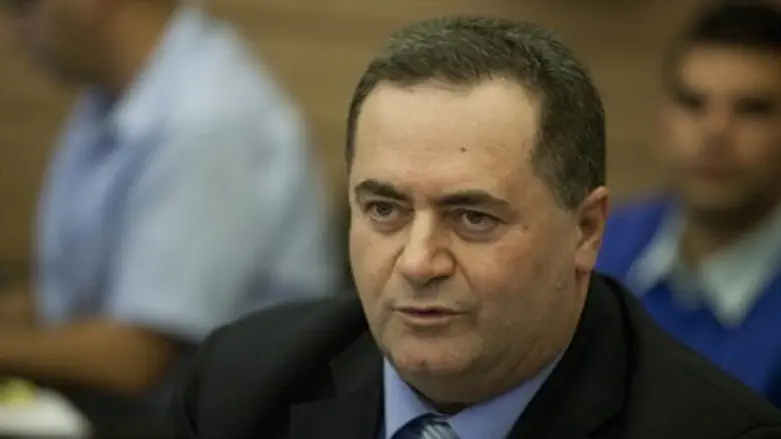 Transportation Minister Yisrael Katz
Flash 90
Minister of Transportation Yisrael Katz strongly condemned the extreme left-wing organization Peace Now, following its attempt "to sabotage" the meeting between Prime Minister Binyamin Netanyahu and US President Barack Obama Wednesday by engineering an outcry over the approval of 2,610 new building tenders in Jerusalem. 
"The building in Givat Hamatos will strengthen Jerusalem from the South and that is good," said Katz, and echoed claims by Jewish land rights NGO Regavim that the entire episode was fabricated for political purposes. 
"The final approval was already signed last week," he noted, "But Peace Now, a worthless organization, whose budget mostly comes from foreign sources, leaked the news the same day as the Prime Minister's meeting with the President of the United States, in order to poison the atmosphere."
He added that in most countries an organization which actively worked to undermine its own government would be marginalized. "But in Israel, we spread the red carpet for them. However, we will continue to build and strengthen Jerusalem, our capitol, from now until forever," said Katz. 
The United States responded to Peace Now's report by condemning Israel's plans to build 2,610 housing units in the Givat Hamatos area in Jerusalem. 
During their meeting at the White House President Obama told Prime Minister Netanyahu that he is very "concerned" about the building". After the meeting, White House spokesman, Josh Earnest, warned that the implementation of these construction plans would send a "very troubling message" to the world. "This development will only draw condemnation from the international community, [and] distance Israel from even its closest allies," Earnest said.
The United States considers this step as contrary to the goal of negotiating a permanent agreement with the Palestinian Authority. Earnest added that construction in Givat Hamatos would "poison the atmosphere" - not only with the Palestinians but with "the very Arab governments" with which Netanyahu has said he wants to build relations.
But Netanyahu rejected the criticism out of hand as discriminatory.
"I cannot tell a Jew that he is not allowed to purchase a home in Jerusalem," he told reporters on Wednesday night, hours after his meeting at the White House with U.S. President Barack Obama.
"As Prime Minister of Israel, I do not understand the criticism - Arabs in Jerusalem buy apartments and no one bothers them or rules them out. By the same token, I'm not going to say to Jews not to buy in Jerusalem, including in Silwan - we cannot have discrimination - this approach is unacceptable to me," he declared.
"It is the right of Jews to buy an apartment in Jerusalem - I stand firm by my decision, there will not be a situation where Jews will not be able to buy an apartment in Jerusalem," the prime minister reiterated.