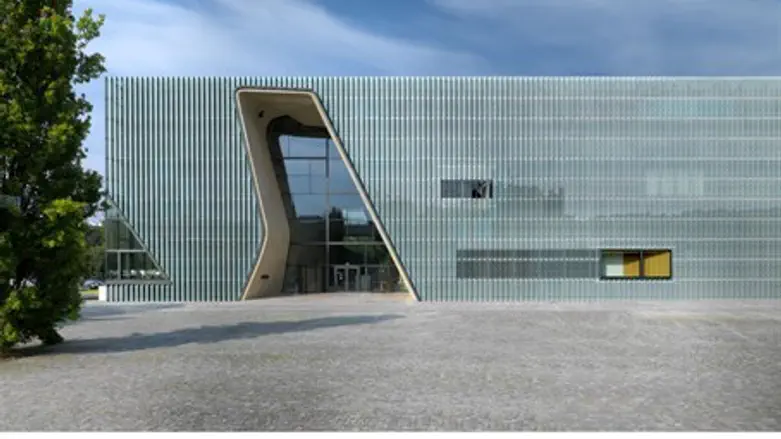 Museum Building
FOT. M.STAROWIEYSKA_D.GOLIK_POLIN Museum
The Grand Opening of the Core Exhibition of the POLIN Museum of the History of Polish Jews in Warsaw will be held on October 28, in the presence of diplomats, politicians, VIPs and donors from the United States, Europe and Israel. 
The POLIN Museum of the History of Polish Jews is a public-private institution, the first of its kind in Poland. It was established jointly by the Government of Poland (Ministry of Culture and National Heritage), the City of Warsaw, and a non-government organization – the Association of the Jewish Historical Institute of Poland. The Museum's director is Prof. Dariusz Stola, a distinguished Polish historian.
The museum is located in the heart of what was the Warsaw ghetto facing opposite Natan Rapoport's Monument to the Ghetto Heroes. The museum building was designed by Finnish architect, Rainer Mahlamaki. His design was chosen for its simple geometric exterior, which does not overshadow the Monument to the Ghetto Heroes, as well as its vast, soaring and beautiful interior. 
The core exhibition, spanning 4200 square meters, presents the life and culture of Polish Jews throughout 1000 years of history, from the beginning of their presence in Poland up to the present. It was developed by a team of over 120 historians from Poland, the United States, and Israel, assisted by a team of curators. The Program Director of the Core Exhibition is Prof. Barbara Kirshenblatt-Gimblett. 
The exhibition's eight galleries are divided into time periods and set up in chronological order: The Forest, First Encounters (the Middle Ages), Paradisus Iudaeorum (15th centuries), The Jewish Town (17th and 18th centuries), Encounters with Modernity (19th century), The Street (the interwar period), Holocaust, and the last gallery, Postwar, focusing on the years after the end of the Second World War until today.
The modern, interactive exhibition utilizes innovative technologies such as simulated environments, 3D, multimedia, historical replicas and models. The goal is to present the past as experienced by those who were there, and for visitors to bear witness to such events. In addition to the Core Exhibition, the Museum organizes a variety of temporary exhibitions, lectures, debates, concerts, theatrical performances, film screenings, workshops and educational activities for children and adults.
credit: Shenberger Meromi Communications and Public Relations
credit: Shenberger Meromi Communications and Public Relations
credit: Shenberger Meromi Communications and Public Relations
credit: Shenberger Meromi Communications and Public Relations
credit: Shenberger Meromi Communications and Public Relations
credit: Shenberger Meromi Communications and Public Relations