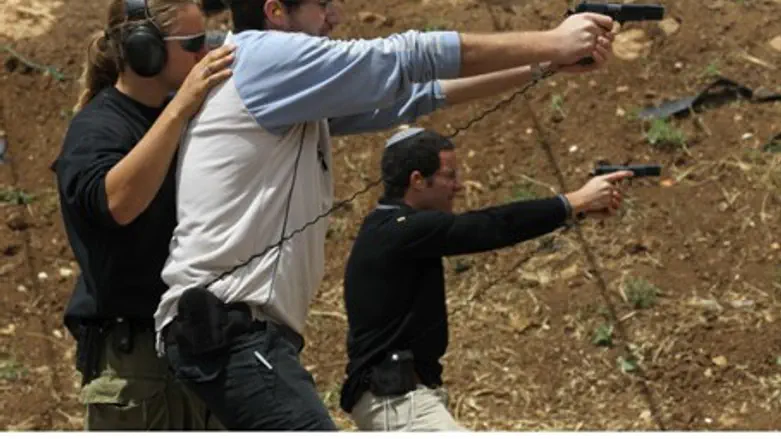 Shooting range (illustrative)
Flash90
Rising tensions between Israel, Syria and Lebanon - as well as Operation Protective Edge in Gaza - have sparked an unusual phenomenon: a rise in requests for personal handgun ownership in northern Israel.
"I hear more and more residents who want to have weapons at home, because they fear the infiltration of terrorists and are afraid they will not have what to defend themselves with," Yosi Adoni, deputy head of the Ma'ale Yosef Regional Council, told Walla! News Wednesday. Ma'ale Yosef is near the Lebanese border. 
The same could be said for the Alonei HaBashan Moshav near the Syrian city of Quneitra, which became the latest flashpoint for violence between Syrian President Bashar Assad's forces and rebel groups.
An investigation by the Israeli daily revealed that 80% of the moshav's residents have removed their guns from the communal arsenal and taken them home for self-protection in recent months, wary of Syrian spillover. 
In addition, the expose revealed, all Upper Galilee Regional Council border towns have received a blanket directive for security team members to keep their arms at home with them; near Ma'ale Yosef, the number of personal gun owners has risen a staggering 60%. 
Locals have linked the requests to a flurry of statements by senior IDF officers about possible terror tunnels Hezbollah may be digging along the Lebanon border, reports of which surfaced soon after the Gaza war ceased fire. 
Another factor: the IDF and Defense Ministry cut guard duty near northern border communities - just one year after a similar move along the Gaza Belt saw an escalation in terror and, eventually, war. 
"This is a direct result of the Defense Department's decision to cancel the security around border communities," Adoni noted. "There is public panic, a sense of damage to our security - and many residents are wondering: 'If not for myself, who will be for me'?"
Not only have patrols around border communities been cut, residents said: the Defense Ministry has also reduced running hours for security lights and cut the budget for radio and other security notification systems. 
To top it off, they said, the Ministry has also dismissed all current security coordinators and replaced them with military personnel - a move which could harm their ability to take action as well as their working conditions. 
"The significant difference between the two is that the security coordinator was recognized as a disabled veteran if anything happened to him, whereas the new military guards will only receive disability from Social Security," Yishai Efroni, a security official in the Asher Regional Council in the Western Galilee, noted. 
"Changes should take effect within the next three months," he added. "Not only has the Defense Ministry cut the available weapons down from 16 to 13, but I only have two guard approvals, not four [for the number of communities present]."