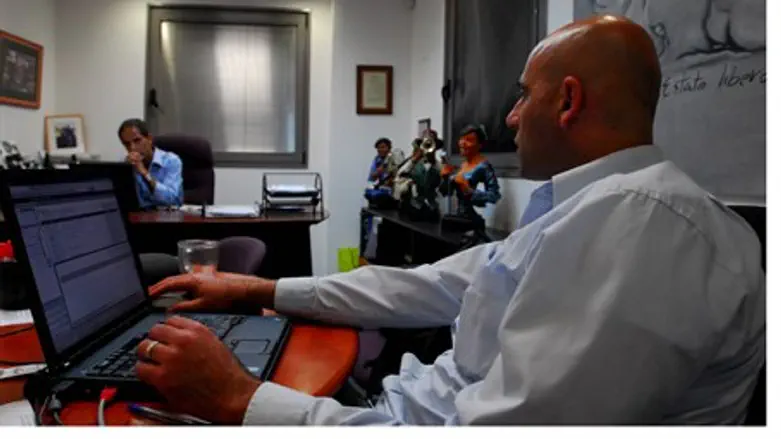 Hi-tech start ups leading the charge
Flash 90
In spite of the summer's conflict with Gaza terrorist groups and the knock to tourism during that period, Israel had maintained its sterling A1 credit rating, according to the Moody's international credit rating agency.
The report based its findings on Israel's resilient growth model and effective government.
Unsurprisingly for the so-called "Start Up Nation", the key engine driving that growth is the flourishing hi-tech sector.
"Key to Israel's economic dynamism is a high-tech export sector that benefits from the country's well-educated, relatively young population, as well as one of the highest levels of per capita investment in research and development," according to the report.
It further noted the recent decision by technology giant Intel to invest $6 billion in a new chip manufacturing plant as evidence of the "substantial" inflow of foreign capital to the Jewish state's high-tech sector.
Growth is expected to continue to accelerate into next year, according to the report.
Despite the positive outlook, however, it warned that "Israel's extensive geopolitical challenges continue to constrain the ratings."
"These include territorial disputes with the Palestinians, intense civil strife in Egypt and Syria and the stand-off with Iran over its nuclear program. Intermittent conflicts pose near- to medium-term risks for the public finances and impair Israel's standing in the international community."
The good news comes less than two weeks after a similarly glowing report by Standard & Poors (S&P) international credit ratings agency, which said the impact of the 50-day Operation Protective Edge on Israel's economy was "minor".
S&P reiterated its high regard for Israel's economy, affirming its 'A+/A-1' rating for the country's sovereign debt, meaning that investors in Israeli bond issues and government debt are almost sure to get their money back.