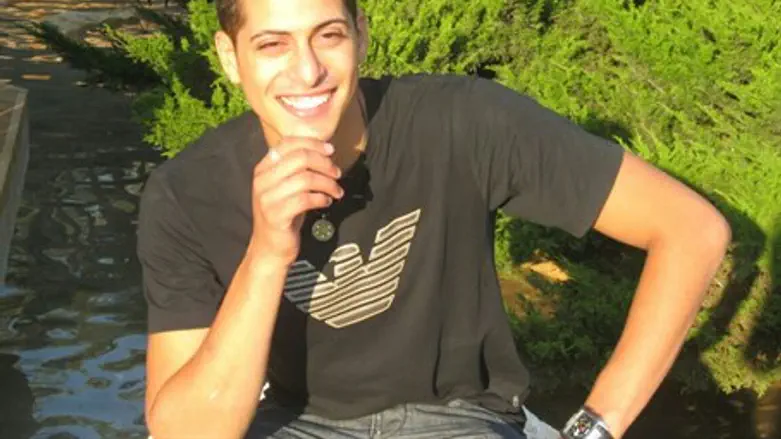 Netanel Arami hy''d
Flash 90
Police are investigating a prior incident after revealing Tuesday they suspect that Netanel Arami hy''d, a Jewish construction worker who fell 11 stories to his death on a Petah Tikva building project two weeks ago, was murdered by an Arab co-worker, 
Another nearly fatal incident occurred also two weeks ago not long before the time of Arami's death at the same work site, and according to police may shed light on the suspected act of terrorism, reports Channel 10.
According to several workers at the Petah Tikva building site, a massive 500 kilogram (1,100 pounds) generator inexplicably fell from the same 11th story of the building, at a time when workers involved in a dispute with other workers were standing below.
Miraculously no one was wounded or killed in the incident, but police suspect that a thorough investigation of the generator fall may lead to the same Arab co-workers who killed Arami. It should be noted Arami's wife has already stated that her husband had no enemies at work.
"It's just murder, it cannot be anything else," said a friend of Arami from work. "One rope can be torn after rubbing against a window, aluminum, glass, something like that. But two ropes? The simplest knife can cut them, you don't even need to try too hard."
Arami's family held a press conference on Tuesday after the police announcement of suspected terrorism. At the conference, MK Moshe Feiglin (Likud) noted that he used to run a rapelling construction company like the one Arami owned, and emphasized "I can tell you as a professional expert that this was murder, not a work accident."
Shortly after the incident, Feiglin visited the family and noted that police arrived on the scene to find both of Arami's ropes cut, and Arab workers laughing on the roof. Nevertheless, police have yet to arrest a suspect in the apparent murder.
Miriam, the bereaved mother of Netanel, stated clearly at the conference "they murdered my son because he's Jewish. There's no other reason here."
Arami left behind his pregnant wife Moriya and two small children, Eitan and Aviya. Moriya said Tuesday "my two-year-old son asks me 'where is dad?' What do you say to a child that age? I tell him 'dad is protecting us from heaven.'"