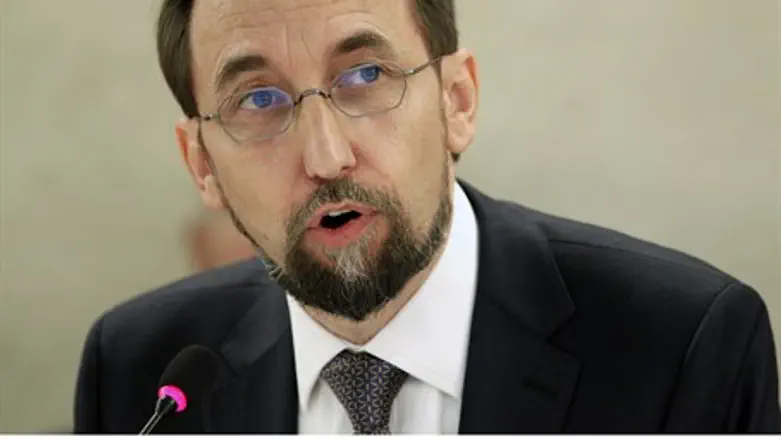 New UNHRC chief Zeid Ra'ad Al Hussein
Reuters
Minister of Foreign Affiars Avigdor Liberman (Yisrael Beytenu) met with the UN High Commissioner for Human Rights, Prince Zeid Al-Hussein of Jordan on Monday, at the United Nations headquarters in New York.
FM Liberman and Prince Zeid discussed the working relationship between Israel and the Commission, the MFA stated, with Liberman reportedly stressing a "fundamental difference" between the Commission on Human Rights and the UN Human Rights Council (UNHRC).
Earlier Monday, Prime Minister Binyamin Netanyahu made the UNHRC's anti-Israel bias a prime point in his speech to the United Nations General Assembly. 
"The UNHRC has betrayed its noble principles to protect its enemies," he declared, noting it is "turning the concept of war upside down." 
Netanyahu denounced the human rights body for its hyperfocus on Israel, which - despite being the only "true democracy" in the Middle East - has been the subject of over half of the UNHRC's resolutions and statements. In contrast, the UNHRC has avoided any mention of the common use of human shields by Palestinian terrorist groups - a flagrant violation of international law.
"The UNHRC is sending a clear message to terrorists everywhere: use civilians as a human shield," the Prime Minister said. "Use them again, and again, and again. You know why? Because sadly, it works."
"Thus, the UNHRC has become a Terrorists' Human Rights Council," he added, noting that it "may have already had consequences." 
In light of this, Liberman stressed to Zeid that Israel "is prepared to cooperate with any fair and professional UN committees," and is willing to clarify the facts about Israel's role in Operation Protective Edge. 
FM Liberman also raised the issue of employment of Israelis by the Human Rights Commission, and noted that there is room to incorporate more Israelis in the Commission.
Zeid, who replaced UNHRC Comissioner Navi Pillay, is the first Muslim and Arab to head the Council.