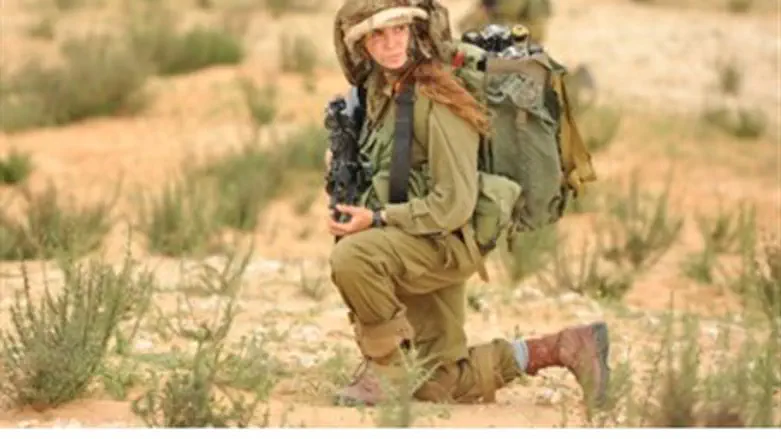 Female combat soldier
IDF Spokesman
The IDF is plowing ahead with its gender-mixing experiment and establishing a new mixed-gender battalion called Bardelas (cheetah), according to the IDF Website.
The battalion will mostly be in charge of routine security in the Central Command region, which includes Judea and Samaria. It joins the mixed-gender Karakal battalion, which has been in existence for a decade.
Fifty percent of the battalion's soldiers will be women.
Critics of the gender-mixing experiment in the IDF have noted that women who serve in combat units suffer from an extremely high rate of injury and that often, entire platoons are disabled because of this. According to Col. (res.) Raz Sagi, who has authored a book on the subject, injuries suffered by women tend to be more serious and often involve stress fractures at the hip and uterine prolapse, which can cause permanent inability to give birth.
In addition, the critics point out that in order to enable enough women to pass the physical tests for entry into the combat units, requirements for women are significantly lower than for men. In a physical test that includes jumping over a wall, for instance, the women are given a bench to step on as they climb over the wall. Another technique adopted by the military to mask gender differences is to have trainees run long distances in circles rather than in straight lines, making it less embarrassing for the women to lag behind the men, because no one can tell what lap they have completed at any given point in time.
There is also great concern about the fate of women who are taken captive by the enemy. A military source told Arutz Sheva that in the recent fighting in Gaza, there were strict orders never to allow a female soldier to go anywhere without male accompaniment. 
The gender experiment in the IDF was largely conceived by a "gender team" that was led by Professor Naomi Chazan in the early 2000s.