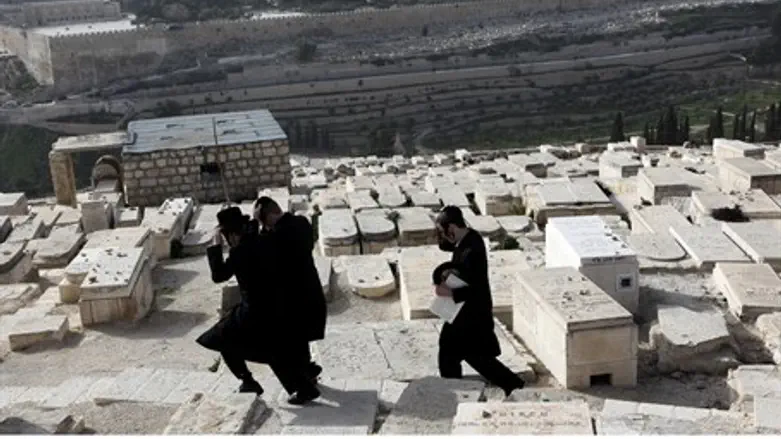 Mount of Olives cemetery
Israel news photo: Flash 90
Visitors to the ancient Mount of Olives cemetery on Saturday night reported major damage to several parts of the cemetery, especially the area used by Gerrer Hassidim. Many headstones were toppled or broken, and brass lamps and other items of value were stolen, they said.
This is not the first time this section of the cemetery has been desecrated, the visitors said. While the Mount of Olives has been a target of vandals for decades, the destruction has gotten much worse over the past several months, they added.
Police said that vandals also tried to damage and steal security cameras set up at the site. Police opened an investigation.
The visitors' report jibes with others in recent weeks. Miriam, a resident of the Maale Zeitim neighborhood that overlooks the Temple Mount from the Mount of Olives, last week told Arutz Sheva that her daughters, aged 10 and 7, were on a school bus that was attacked with paint and rocks. "Stoning attacks happen at least three times a week," she said.
Members of the Knesset Interior Committee recently conducted a special tour of the Mount of Olives in order to examine up close the security arrangements there. The tour comes after hundreds of complaints by Jewish visitors to the huge cemetery located on the Mount of rock-throwing attacks by Arabs, and vandalism of the graves of loved ones.
The tour was led by MK Miri Regev, chairperson of the Committee, and attended by other MKs and police officials.
Also participating were representatives of the International Committee for the Protection of the Mount of Olives in Israel, Jeff Daube and Harvey Schwartz.
According to Schwartz and Daube, police do precious little to defend Jews who wish to visit the Mount of Olives, and Jewish activists have had enough of police inaction over attacks by Arabs on Jews attempting to visit graves or pray at the site.