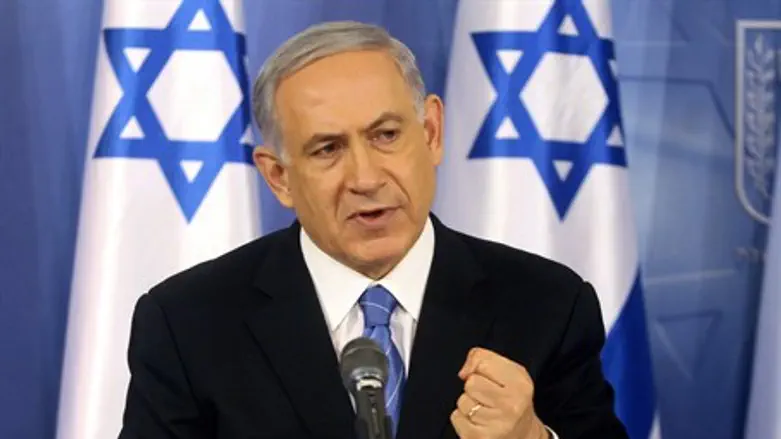 Binyamin Netanyahu
Flash 90
Prime Minister Binyamin Netanyahu has vowed to fight back against the "lies and slander" leveled against Israel when he addresses the UN General Assembly next week.
Speaking Saturday night as he prepared to depart for New York, Netanyahu said he saw it as his responsibility to stand up for the people of Israel, following a series of hostile speeches targeting the Jewish state over the Rosh Hashana (New Year) break.
"After the Iranian President's fraudulent speech, and the speech of incitement by Abu Mazen (Mahmoud Abbas) I will tell the truth on behalf of the citizens of Israel in front of the entire world," Netanyahu said, as he prepared to travel to New York tonight.
"In my speech to the UN and in all my meetings I will represent the citizens of Israel and I will refute in their names the lies and slander (spoken) about their country."
Speaking at the UN General Assembly on Friday, Palestinian Authority leader Mahmoud Abbas accused Israel of "war crimes" and "genocide" during its 50-day defensive operation against Gazan terrorists, in an incendiary speech slammed as "offensive" by the US government.
Apart from hitting back at those and similar accusations at the UN, Netanyahu will also be using the opportunity to meet with several world leaders and shore-up bilateral ties with key allies. Signifcantly, the prime minister's first meeting in New York will be with his Indian counterpart Narendra Modi. The two countries already have strong ties, but Modi is seen as particularly sympathetic to the Jewish state and Israeli officials are hoping to strengthen the relationship between the two countries further still.
Netanyahu will also meet US President Barack Obama, who on Wednesday used his address at the UNGA to criticize Israelis who are skeptical about the "peace process" with the PA.