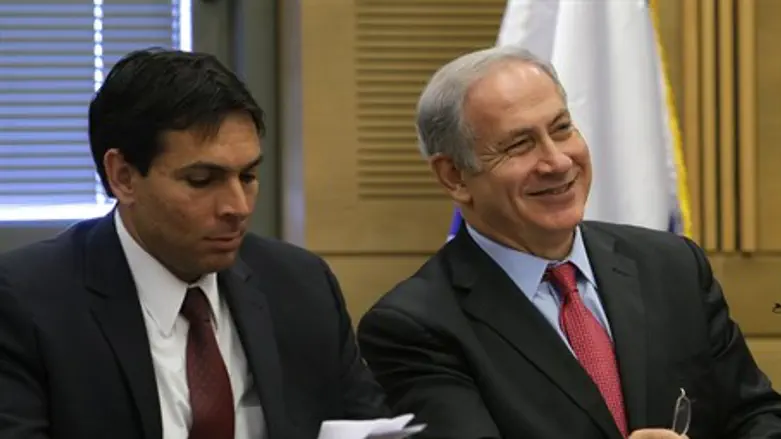 Danny Danon, Binyamin Netanyahu
Flash 90
Likud Central Committee Chairman MK Danny Danon spoke to Arutz Sheva on Wednesday ahead of the Jewish New Year (Rosh Hashana), slamming the leadership of his party - primarily Prime Minister Binyamin Netanyahu - for stifling criticism.
Netanyahu fired Danon from his role as Deputy Defense Minister in July during Operation Protective Edge, after Danon criticized Netanyahu's decision to accept a ceasefire with the Hamas terror group. Danon later noted the July 15 ceasefire would have left Hamas's lethal terror tunnel network undiscovered and entirely intact.
According to Danon, Netanyahu's policy of not allowing free expression and criticism are what led Likud ministers Gideon Sa'ar and Moshe Kahlon to leave the party; in fact, since Sa'ar stepped down this month there has been talk of the two joining in forming a new party.
With the Jewish High Holidays beginning, Danon told Arutz Sheva that now is a time of soul searching for his party in grappling with the question of Sa'ar and Kahlon, saying "what happened to our best?"
Danon rejects explanations that Sa'ar, who just days before stepping down was snubbed by Netanyahu from a meeting of activists, and Kahlon left politics merely for personal and family issues.
"I know those two very well. They are quality people who want to donate, and still will donate," said Danon, noting that their choice to do so not in Likud highlights a very serious issue.
The former deputy minister noted that he has been outspoken in his criticism, including over the decision to release 78 terrorists as a "gesture" to the Palestinian Authority (PA) in peace talks that the PA torpedoed in April by uniting with Hamas, but that many others in the party prefer to keep a low profile out of a fear of censure for opposing Netanyahu's policies.
Freedom of expression only through conflict
Danon stopped short of accusing Netanyahu of a mini dictatorship in the Likud, pointing to certain checks and balances that exist as seen in the Likud Central Committee meeting last Monday that decided to topple Hamas in the next operation in opposition to Netanyahu's position.
The MK added that while it is possible to speak out against Netanyahu from within Likud, that should be made possible in an orderly fashion from the outset, instead of being achieved through a struggle.
"The prime minister needs to hold a dialogue, to listen to the Central Committee members," said Danon, noting that former Prime Minister Menachem Begin was strongly opposed by his Likud party in giving up the Sinai Peninsula to Egypt, but still came to the Committee to listen and respond to members.
As to the possibility that he might join Sa'ar and Kahlon in leaving the party, Danon responded "the values that I express are Likud values. I haven't moved. There are those who want to move and take the Likud with them - that won't happen."
Elections in 2015
Regarding the ceasefire talks with Hamas in Cairo that are to resume in late October, Danon commented that the basic demand should be Netanyahu's position, namely the disarmament of the Hamas stronghold of Gaza.
However, given the fact that Israel did not deliver a crushing blow to Hamas or remove its military capabilities in Operation Protective Edge, leaving it able to still threaten Israel, Danon expressed his doubt that the government is in a position to press its demand.
As the interview wound down, Danon was asked if new elections will be held in the near future, given the massive coalition tensions in recent weeks.
According to Danon, elections will indeed be held in 2015; he predicted that by next Rosh Hashana Israel will be in the midst of election campaigning or immediately ahead of such campaigns.
The talk of elections comes after a Peace Index survey released Tuesday showed that 61% of Israeli Jews mistrust the government, part of a recent growing trend of distrust following the inconclusive end to the Gaza operation, which has left Gaza Belt residents still fearful for their safety.
The ceasefire also delivered a fatal blow to Netanyahu's approval rating, which dropped to a woeful 32% after being as solid as 82% at the height of the operation.