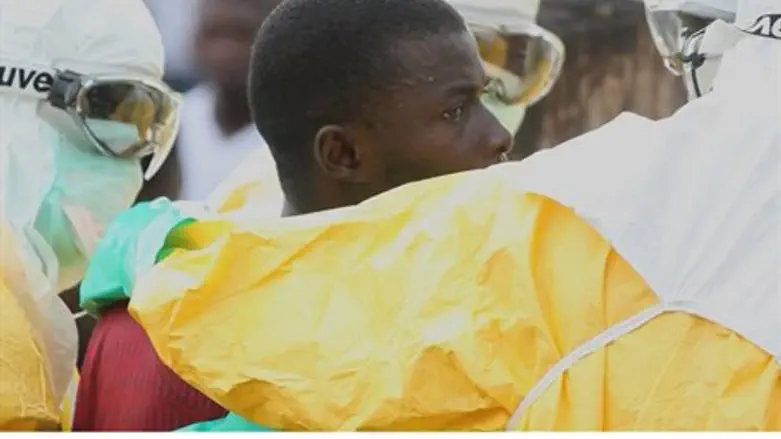 Ebola patient in Liberia
Reuters
Western Africa is currently suffering a lethal Ebola epidemic, but according to a US Centers for Disease Control and Prevention (CDC) report released Tuesday, the spread of the virus is liable to leap to frightening proportions by as soon as next January.
The report forecast that unless serious action is taken to stem the tide of Ebola, which has a 51% mortality rate, 1.4 million people in Sierra Leone and Liberia could be infected by the end of January, reports The Washington Post.
So far, the World Health Organization (WHO) has reported over 5,800 cases and over 2,800 deaths in the current outbreak that started last December.
But according to the CDC, the actual number of cases is likely 2.5 times higher than the number listed by officials given the inaccessibility of many remote African villages and the difficulty of documenting the virus's spread. The report added that each infected person is spreading the disease to roughly two others, meaning infections are doubling every 20 days in Sierra Leone and Liberia.
CDC estimates that in the two countries, there will be a total of 21,000 infections by September 30 - next Tuesday.
"Extrapolating trends to January 20, 2015, without additional interventions or changes in community behavior (e.g., notable reductions in unsafe burial practices), the model also estimates that Liberia and Sierra Leone will have approximately 550,000 Ebola cases (1.4 million when corrected for underreporting)," the CDC wrote.
Turning back the tide
However, CDC Director Tom Frieden warned that his organization's report does not take into account actions the US and UN have promised to take since August, noting "a surge now can break the back of the epidemic, but delay is extremely costly."
The shocking projection is a scenario if no action is taken, adds Frieden, saying it was meant to help inform response planners.
"It is still possible to reverse the epidemic, and we believe this can be done if a sufficient number of all patients are effectively isolated, either in Ebola treatment units or in other settings, such as community-based or home care," Frieden said.
Providing an encouraging forecast, Frieden added "once a sufficient number of Ebola patients are isolated, cases will decline very rapidly - almost as rapidly as they rose."
There is reason to believe that the needed action will be taken, as a UN Security Council last week voted to create an emergency medical mission in response to the outbreak, while the US has launched a $750 million effort including treatment facilities in Liberia.
Likewise, WHO is transferring Ebola victims to small medical centers, in a push to increase survival and slow transmission of the disease that is borne by contact with bodily fluids.
Will Ebola never go away?
Aside from CDC's report, another prediction was released just hours earlier on Tuesday by the New England Journal of Medicine.
According to the latter report, the current Ebola epidemic may never be fully controlled making the virus endemic, bringing civic life in the stricken countries to a standstill and keeping the threat of Ebola spreading more widely constant.
The report noted that the previous worst outbreak, which took place in Uganda from October 2000 to January 2001, only infected 425 people.
However, associate professor of Microbiology at Boston University Paul Duprex warned against the predictions, noting that speculation has been rampant that the virus could mutate to become airborne despite a total lack of credible evidence.
"We need to be careful not to scare people with unrealistic numbers - it's like this airborne suggestion - where's the evidence, what's the precedent, what are such scaremongering suggestions based on?" Duprex told The Washington Post.