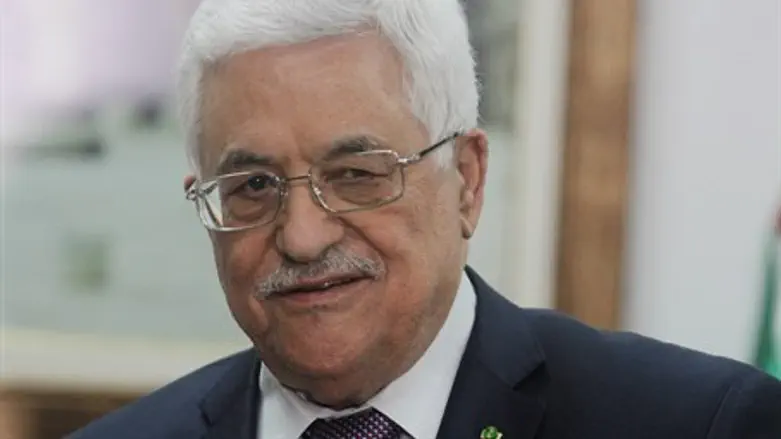 Mahmoud Abbas
Flash 90
A senior member of Palestinian Authority (PA) Chairman Mahmoud Abbas's Fatah faction said that Abbas will "drop a bomb" against Israel at the UN General Assembly on Friday.
The senior official, Jibril Rajoub, said in an interview on Palestinian Arab media that the move would be an integration of the international community into "the strategy of the Palestinian people."
It is worth noting that Rajoub in mid-August said the PA had made a "political decision" to support Arab terrorists "slaughtering" Jews living in Judea, Samaria and eastern Jerusalem - an announcement that has been accompanied by a steep rise in terror attacks in the region.
Abbas is currently in New York for the UN General Assembly that starts on Wednesday, and which he will address on Friday in a call for a "new political reality."
His New York visit follows a stop in France last Friday, in which he secured French President Francois Hollande's blessings for a UN Security Council resolution outlining the "solution to the conflict."
That "solution" consists of a timetable plan by which Abbas will push the UN to demand Israel withdraw from Judea and Samaria within a certain timeframe, despite the fact that Israel's presence in the region is completely legal under international law.
Stop "drunk" Israel
While in New York, Abbas spoke to American students at Manhattan's Cooper Union hall on Monday according to the Palestinian Arab Ma'an News Agency, where he called on the world to "rethink Palestine."
"The international community has the responsibility to protect our people, living under the terror of settlers, an occupying army," claimed Abbas.
He added "this week I will propose to the United Nations a new timetable for peace talks," referencing his Friday talk. "Enough is enough; end the occupation. We ask that the international community stop hiding behind calls for the resumption of talks."
Abbas added another slander against "drunk" Israel, accusing the Jewish state over its defensive Operation Protective Edge by saying "I made a prayer for an America that is a real friend of Israel, not a false friend, and just as real friends, do not let friends drive drunk."
The news source added that protesters at the address shouted out "Abbas is a terrorist" before being removed from the hall.
That accusation comes after the "military wing" of Abbas's Fatah, the Al-Aqsa Martyrs' Brigade, bragged of its part in Hamas's recent terror war on Israel. Fatah also has recently called for a full return to terrorism, declaring "open war" on the Jewish state.
Such calls are in keeping with the Palestine Liberation Organization (PLO) charter of 1968, which declares "armed struggle is the only way to liberate Palestine." Following the charter, the PLO and Fatah were defined internationally as terror organizations, a status which was removed during the 1993 Oslo Accords process.