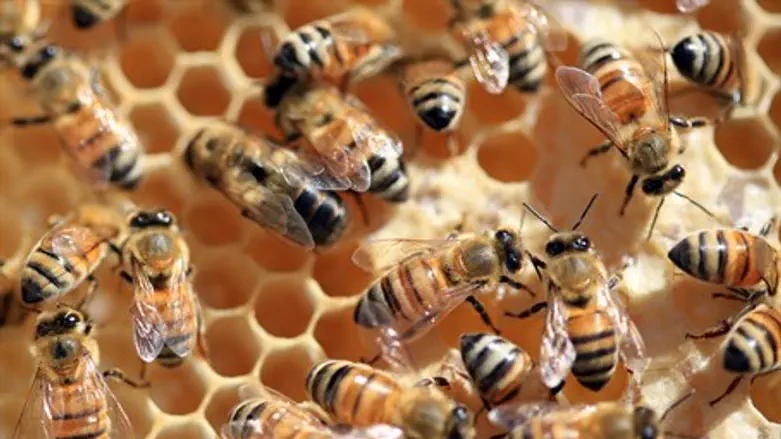 Bees (illustration)
Flash 90
Tragedy occurred in an agricultural field adjacent to the southern coastal moshav of Lachish Monday morning, as a 35-year-old resident of the south died after suffering intense allergic reactions due to being stung by a swarm of bees.
The man was stung on all parts of his body, with the first report of the incident being received by Magen David Adom (MDA) around 8 a.m.
According to the report, after being stung multiple times by a bee swarm the man was brought to the adjacent moshav by a private car, where MDA paramedic crews began providing first aid and tried to resuscitate him.
The medical crew was forced to pronounce the man's death due to the particularly severe reaction to the poisonous stings.
Apparently the man was an agricultural worker who ran afoul of the bee swarm while working in the field near Lachish.
Ironically the bee attack comes on the Monday just before the Jewish New Year (Rosh Hashana) begins on Wednesday evening; during the holiday it is traditional to eat honey with apples to signify the start of a sweet near year.
Another Israeli was nearly killed by a bee sting in July. The victim, Orly Goren from the Golan Heights, apparently wasn't aware she was lethally allergic to bee poison. Fortunately Goren was saved by a special heart and lung machine known as an ECMO.