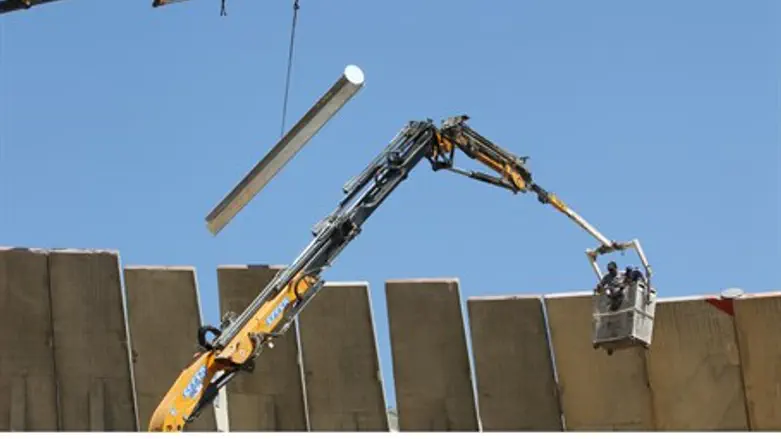 Construction of Gush Etzion barrier (file)
Flash 90
Prime Minister Binyamin Netanyahu dropped the issue of a separation barrier in Gush Etzion off the agenda during his Sunday Cabinet meeting, amidst controversy over the decision to erect the fence despite considerable opposition.
Plans to build a security fence in Gush Etzion have languished for years, prompting surprise when it was resurrected earlier this month. The government recently declared 4,000 dunams of land in the region as "state land," leading some to believe that the bloc - which has a de facto status of being in Israel's control by both national and international law - would soon be declared state land in its entirety. 
Unfortunately for nationalists, the issue will be raised again in a government meeting next Tuesday, where the possibility of alternative solutions may be dismissed or discussed. 
However, Netanyahu has now declared that the issue does not justify a High Court of Justice hearing, Arutz Sheva has now learned, and will resolve the issue within the government and its ministries. 
The barrier's path was approved in 2006, and after petitions to the Supreme Court it was altered so that the majority of the fence would be located on the side of the 1949 Armistice lines currently under Israeli sovereignty.
The path of the barrier that is coming up for a vote would leave Gush Etzion outside of the fence - or in other words, not part of the contiguous territory surrounded by the security border of "Israel proper."
In the meantime, Efrat Regional Council head Oded Ravivi welcomed the postponement, saying he hopes "common sense wins over formalities." 
"The government's decision in 2006 is no longer relevant to the reality of our times," Ravivi stated. "I am pleased that the Prime Minister accepted the position that the changing security situation also requires a creative solution to changing realities."
Head of the Gush Etzion Regional Council, David Pearl, also welcomed the delay.
"We welcome the decision to postpone the discussion of the construction of the separation fence in Gush Etzion, and thank the ministers and all entities who have worked for its postponement," Pearl stated. "Now, when the government is forced to make painful cuts in education, welfare, and health services to residents, it is inappropriate to spend a huge sum stands at 300 million project with a marginal contribution to security. Opposition to this fence unites settlers, Palestinians and environmentalists, and we hope that the postponement of the decision is the first step to putting this unnecessary program on permanent hold."