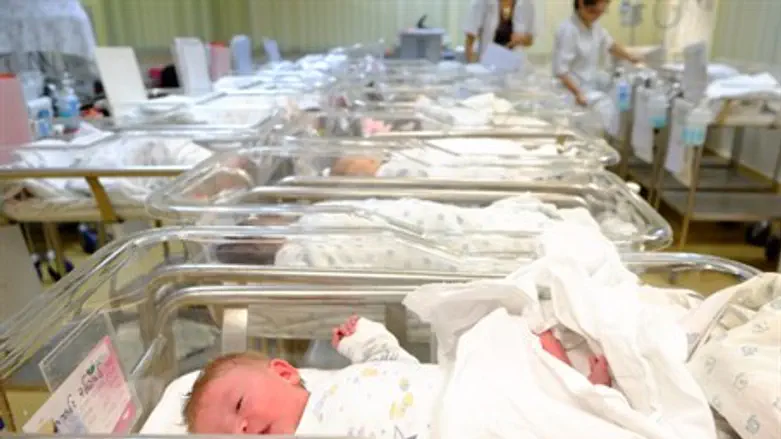 Newborns.
Flash90
The Population and Immigration Authority has released its annual figures for the Jewish month of 5774, ahead of Rosh Hashanah (Jewish New Year), which begins Wednesday night.
On the eve of 5775, there are 8,904,373 registered Israeli citizens, compared to 8,730,562 at the same time last year.
That population growth is due to both the Israeli birthrate and the steady stream of new olim (immigrants) into the country.
During the past year, a total of 176,230 babies were born - 90,646 boys and 85,584 girls. The statistics show a significant population boom; at this time in 2013, 160,749 babies were born in Israel, with a count of just 82,437 boys and 78,312 girls - a 9% increase overall. 
Immigration has skyrocketed as well. 24,801 olim arrived in Israel over the past year, compared to just 16,968 in 5773 - a 46% increase.
The most popular boy's name this year is Yosef, followed by Daniel, Uri, Itai, Omar, Adam, Noam, Ariel, Eitan and David, respectively. For girls, the most popular name was Tamar, followed by Noah, Shirah, Adelle, Talya, Yael, Lian, Miriam, Maya and Avigayil. 
All of the "most popular" names remained the same since 5773.
140,951 Israelis are currently registered as married, 75,848 of whom tied the knot over the past year - compared to the roughly 64,000 who wed in 5773 (15% increase). 
In contrast, 32,475 Israelis are registered as divorced over in 5774, with a significant increase in divorces; 23,419 couples separated over the past year alone, vs. just 14,000 in 5773 - a 40% increase.