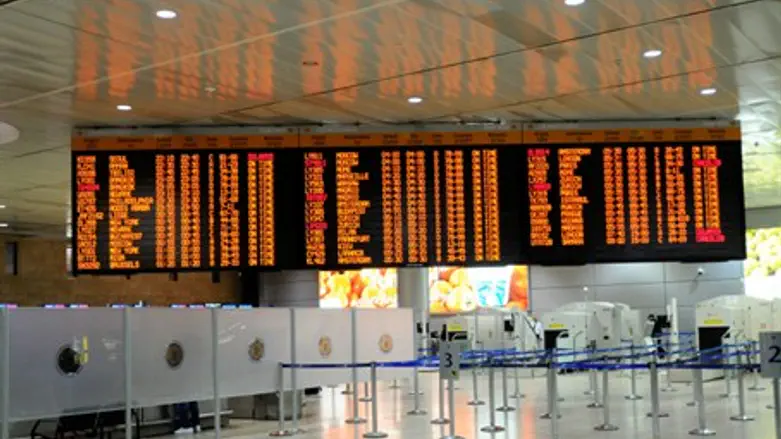 Ben Gurion Airport
Flash 90
Just in time for the last big weekend before Rosh Hashana, when tens of thousands of tourists and Israelis will be passing through Ben Gurion Airport on their way in or out of the country, Airports Authority workers have decided that the time is right for work actions – with the first a wildcat strike called for Thursday morning.
The airport will be closed between 11 AM and 2 PM Thursday. Affected will be 58 departures and arrivals, on which 8,000 passengers are supposed to be traveling. While flights could technically land or take off, baggage, catering, and security workers will be attending "information meetings," so no services will be available. The three hour closure will naturally have repercussions on many more flights later Thursday, and probably through the weekend, creating a chain of delays that will make all flights in the coming days late.
Under Israeli law, workers need to declare a work dispute two weeks before actually walking off the job. No dispute has been declared by airport workers, who, in a sympathy strike, are protesting the expected implementation of an efficiency plan in the Post Office. Postal workers in many locations, including throughout Judea and Samaria, have been on strike for weeks over the plan, which is likely to require dismissal of some 1,500 employees.
The workers are demanding guarantees that they will not be fired. The Treasury has said that it can give no such assurances, and that without the efficiency plan, the Post Office Corporation will go broke by the end of the year.