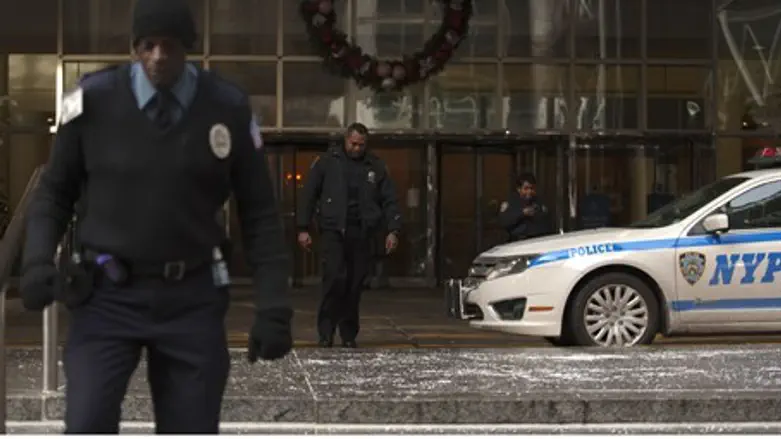 NYPD officers
Reuters
Suspected hate crimes against Jewish and Muslim people are up following unrest overseas, the New York City police department said on Wednesday, according to CBS New York.
Deputy Chief Michael Osgood said there has especially been an increase since July 1, when reports about unrest in Gaza and the Islamic State group became front-page news.
There have been 89 suspected anti-Semitic attacks so far this year, up from 64. There have been 17 reported attacks against Muslims, up from seven last year. Fourteen of the attacks on Muslims occurred after July 1, the report said.
The incidents are not from any organized group, Osgood said. They are random and impulsive acts by "street thugs," he said.
According to the NYPD, hate crimes in general are up 17 percent over last year; anti-Semitic hate crimes are up 39 percent; anti-Muslim hate crimes are up 143 percent; and the increase jumped after July 1 from eight crimes a month to about 18 crimes a month.
Osgood said they are seeing offenders caught in a grip of passion who would not have offended before.
People who would have not reported a hate crime before are also now more inclined to report, Osgood said.
Police Commissioner William Bratton said the authorities were watching very closely and aggressively. He said it was important to note that the crimes are not an organized effort to strike a particular religious group or race.
"It is individuals acts rather than an organized effort to go after the Jewish community or the Muslim community. We're seeing none of that on the part of any of the entities that we would watch for that kind of organized attack. These tend to be very spontaneous actions by individuals," he said Wednesday, according to CBS New York.
Israel's self-defense Operation Protective Edge in Gaza brought with it a rise in anti-Semitic attacks around the world.
Anti-Semitic attacks nearly doubled in France in the first seven months of 2014 while in the UK, 302 anti-Semitic incidents in July alone, making a whopping 400% increase over the same month last year.
During Operation Protective Edge, violent protests broke out in Paris. In a similar incident, hundreds of Muslim extremists attacked a major synagogue in Paris, provoking clashes with Jewish youths who rushed to defend the site and worshippers trapped inside.
A World Zionist Organization study in August found that the number of anti-Semitic incidents in the world jumped 383% in July as compared to the same month the previous year, with Europe showing a 436% increase.