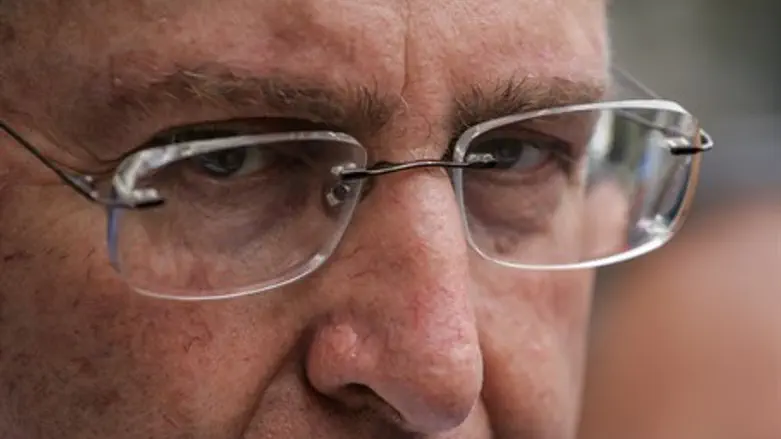 Moshe Yaalon
Flash 90
A diplomatic source who asked to remain anonymous accused Defense Minister Moshe Ya'alon Wednesday of launching "a brutal attack" on the former chief IDF rabbi, Brig.-Gen. (res.) Rabbi Avichai Ronski, who is also the Head of the Yeshiva of Itamar in Samaria.
The source said that Ya'alon is using Ronski in order to besmirch Economics Minister and Jewish Home head Naftali Bennett.
According to the source, Ya'alon and his confidants have been briefing military reporters against Bennett and Rabbi Ronski in recent hours – that is, Wednesday morning.
"In the tradition of the tactics of the radical Left, the defense minister began briefing reporters that as Minister of Religions (another portfolio Bennett holds), Minister Bennett is transferring budgets to the yeshiva in Itamar. How low can you go? Ya'alon is starting to behave like the New Israel Fund organization Molad."
"Ya'alon is telling reporters that Bennett transferred money to 'religious institutions,' as if the study hall named for the Fogel family is a private business that belongs to Rabbi Ronski - as if the officers and warriors who emerge from the yeshiva are a private business that belongs to Rabbi Ronski."
"Yesterday Ya'alon lied to reporters and told them that Bennett used Rabbi Ronski. Today he denied his own claim and went on to attack Rabbi Ronski's students and soldiers. There is a limit to one's behavior when one is hysterical and Ya'alon must understand this."
The source called Yaalon's behavior "a complete loss of control."
"How dare the defense minister take the yeshiva at Itamar or the person who heads it and use them as a means for political attacks. This is a yeshiva many of whose students are taking the IDF's most elite and daring combat units by storm. He should be ashamed of himself."
According to reports, Ya'alon falsely accused Rabbi Ronski of leaking sensitive information to Bennett before and during the war, thus enabling Bennett to effectively challenge Ya'alon in the Cabinet and demand an operation against the Hamas terror tunnels.
Bennett said that he received his information from his extensive tours on the ground during the fighting. He has received support from ex-Shin Bet chief Yuval Diskin, who lauded him for refusing to participate in Cabinet sessions "as an extra" with no independent information sources.