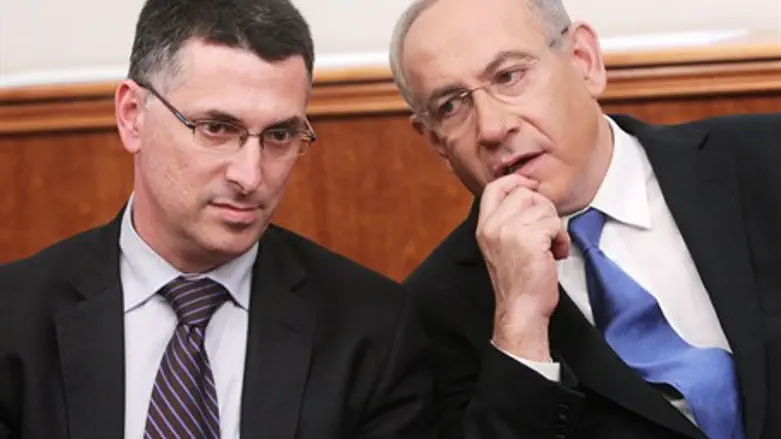 Saar and Netanyahu
Flash 90
Minister of Interior, Gideon Saar, was not invited to a meeting of Likud activists with Prime Minister Binyamin Netanyahu that will take place Monday evening at Petach Tikva.
Saar was left out of the politically meaningful event despite his senior standing within the Likud.
Netanyahu arranged the gathering to coincide with a session of the party convention, which is being chaired by MK Danny Danon. Netanyahu has no intention of attending the convention, which Danon was planning to take advantage of to put him on the hot seat regarding his security policies. Netanyahu fired Danon from his position as Deputy Defense Minister in early July, after Danon criticized the prime minister and defense minister as being "limp" on security.
Danon, for his part, invited Saar to the convention, but Saar has not yet said if he will attend the event, where 500 to 600 Likud central committee members are expected.
Netanyahu and Saar used to be very close politically, but ever since the last elections, their relationship has been tense. There are two known reasons for this development: one is Saar's apparent desire to replace Netanyahu, as evinced by a gaggle of his supporters who danced and chanted "Hoo! Ha! Who is this? The next prime minister!" when Saar entered the Likud convention hall on election night.
Netanyahu and his wife Sarah were present, and were reportedly livid.
The other reason for the falling out between the two is reportedly the Likud's election propaganda, which was supervised by Saar along with Minister Gilad Edran. The campaign, which targeted the Jewish Home and claimed that it was anti-women, was disastrous. While it achieved the purpose of weakening Jewish Home – which went from near 20 in the polls to 12 in the actual voting – it also weakened Likud-Beytenu considerably, bringing it down from the mid-30s to 31.
These factors led to Saar's being appointed as Interior Ministry, a less prestigious portfolio than he desired and one that does not make him a member of the Security Cabinet.
Saar came out against the government's policy in Protective Edge and demanded that the entire cabinet be convened to discuss it. He also supported then-MK Reuven Rivlin in his race for the post of president, despite Netanyahu's objections.
Netanyahu apparently believes Saar wishes to run against him ahead of the next elections, for the role of Likud chairman.