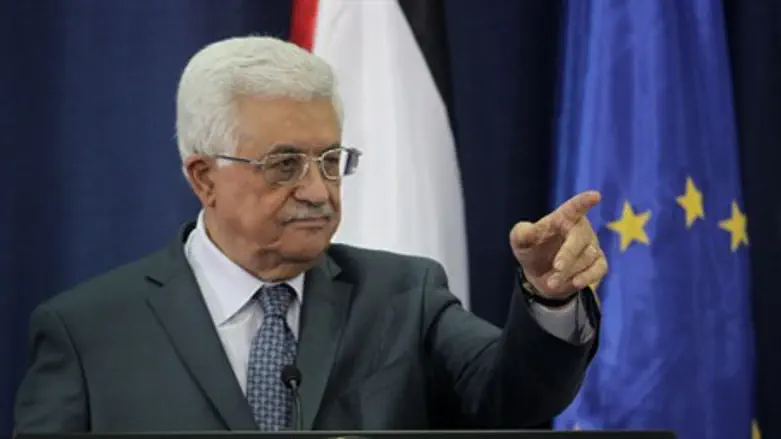 PA Chairman Mahmoud Abbas
Flash 90
According to Bethlehem-based news agency Ma'an, Palestinian Authority (PA) chief Mahmoud Abbas will ask French president Francois Hollande to recognize the "state of Palestine" when Abbas meets Hollande in France Friday. According to the report, Abbas will then ask additional European countries to recognize "Palestine" even before he heads for the annual United Nations General Assembly.
PA foreign minister Riad Al Maliki told Ma'an that "the international situation now is much better than in the past, and there is a better chance that the Palestinian people's demands will be met." Maliki added that "the world is now conviced, more than in the past, that Israel undermines international efforts for peace by constructing settlements."
"Because of the diplomatic stalemate, we will say at the Security Council that this is the time to take a clear stand that will lead to the end of the occupation," he explained. According to Maliki, European countries are gradually becoming convinced that Abbas is following the right path.
Abbas is set to meet Hollande in Paris, where he will stay for two days before flying to the UN on September 24 and try to win support for the PA's new diplomatic initiative to set a date for forcing Israel out of Judea and Samaria.
Abbas recently obtained backing from the Arab League for his plan, which aims to secure an end to the Jewish presence in Judea-Samaria within three years and the establishment of a Palestinian Arab state in the region.
Earlier this month, a senior Palestinian official said the leadership was going to seek a UN Security Council vote on a resolution setting a three-year deadline for ending Israel's presence in Judea and Samaria, despite knowing any such text would be vetoed by Washington.
"We will be seeking a Security Council resolution on ending the occupation on a specific date," said Hanan Ashrawi, who is a member of the governing body of the Palestine Liberation Organisation (PLO).
"We should know that the occupation will end within three years."
She also raised the possibility of seeking passage of a similar but non-binding resolution by the UN General Assembly.
If, as expected, the Security Council bid fails, the PA has said they will consider fast-tracking an application to become party to the International Criminal Court.