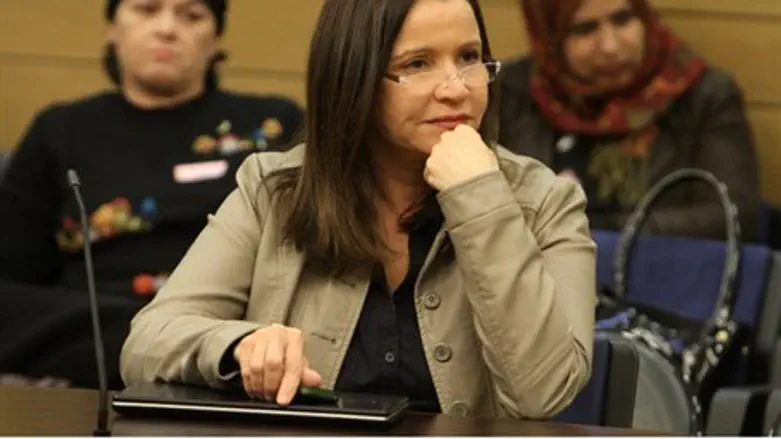 Shelly Yechimovich
Israel news photo: Flash 90
Labor MK Shelly Yechimovich harshly slammed on Sunday the group of reservist soldiers from the Intelligence Unit 8200 who signed a letter of insubordination.
"So what if you're Unit 8200? What makes you think your opinion is any more important than those of artillery, Golani, Border Guard, military choir or kitchen staff forces?" Yechimovich pondered on her Facebook page, "You have a political view, go on, express it. Respond, protest, start a political party. Your position is not that special that it makes your position any more right (than anyone else's)."
"Indeed, your unit is one of the best of its kind in the world, if not the best. You, by the way, do not represent the vast majority of those serving within the same unit. Yes, the contributions and essentiality of Unity 8200 to the IDF, can never be quantified. But hey, what the IDF contributes to you is immense, incomparable to what other soldiers your age receive, even those who risk their lives on the battlefield," Yechimovich reminded the soldiers.
"You were released from the IDF armed with an education and experience that you cannot acquire at any university in the world; a workforce waiting for you with open arms, a starting salary that most of the country's citizens can only dream of. This is no reason to feel better, more deserving. Just the opposite. This is why you should be infinitely grateful," the MK added.
Yechimovich emphasized, that "Your defamatory words on directed bugging of 'sexual conversations,' and other nonsensical things have no link to reality. You are falsely slandering the other members of your unit. On Saturday, I spoke with a number of them, men no less moral than you. They feel ridicule and anger towards you. They told me that if you really participated in such an unusual and ugly event, of dimming the lights and listening as a group to intimate calls, why did you not just stop the bug in real time?"
"This is a good question to ask of all your claims. If you did such immoral things, why did you not refuse to adhere to commands in real time? You would have refused, would have been judged, kicked out of the unit, paid a price, and lived in peace with your conscience. That's what people do when their consciences really torment them," she indicated. "You all know the story of First Lieutenant A. from Unit 8200 who also served in the Palestinian Arab arena. He refused a command that he thought was immoral, and was dismissed. Why not follow in his footsteps? How easy it is now, as a civilian, to create a narrative that you would never have dared create as soldiers… Cowards."
At the end of her message, Yechimovich wrote that, "Your selfish and self-righteous act did not hurt the State, but did hurt the Zionist left. You did not move the Israeli public by a millimeter. Au contraire. In your ensemble of shallow and childish clichés, in your abuse of the IDF, in your spitting into the well from which you drank and will continue to drink from all the days of your life, in your endless arrogance – you made us take a few steps backwards. You can only reap the bonuses at international conferences, or work interviews for multi-national corporations. Not here, in this truly tough, challenging and painful place."