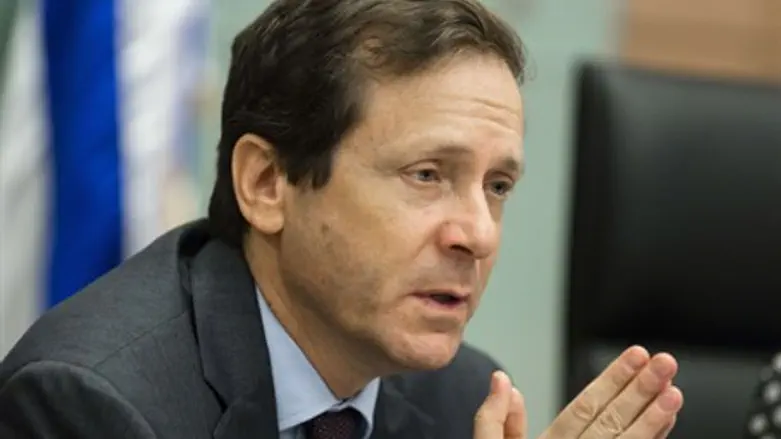 Yitzhak Herzog
Flash 90
Opposition Chairman and Labor Party leader MK Yitzchak Herzog, a reserve officer in Military Intelligence's 8200 Unit, sharply criticized on Saturday 43 reservist officers and soldiers from the same unit, who signed a letter of insubordination following Operation Protective Edge.
"Proper disclosure, I am a major in Unit 8200 and have accompanied it for decades," wrote Herzog on Facebook. "I love the unit, its soldiers and commanders. Its contribution to the security of Israel and its citizens, and even beyond that, is immense. Thousands upon thousands of Israeli citizens owe it their lives. Fighting terror is meticulous and complex work that requires the best minds."
"I oppose refusal to serve and am wholly disgusted by it," he added. "This unit and its operations are vital not only for wartime but especially and mostly for peace."
"When one speaks of a diplomatic arrangement and the setting of borders, one is speaking about advance warning stations and intelligence abilities, in order to locate and block the extremist forces that will do everything to sabotage peace."
"I am not saying that there are no mistakes. Certainly, these are possible, and Israel's military history is full of them, but there are ways to complain and bring the complaints to an inquiry and discussion. I also think that there are ways of effecting change, certainly when there is a feeling that injustice was done somewhere. But not by encouraging and calling for refusal to serve, or through damaging global publicity whose price we – the citizens of Israel – will pay."
Forty-three reserve force officers and soldiers in 8200, an elite intelligence corps responsible for collecting SIGINT (signal intelligence) and code decryption, submitted a letter of insubordination to Israeli media last week. 
"There is an idea that serving in the intelligence corps does not include moral dilemmas, and only contributes to the lessening of violence and harm to innocents," they wrote. "But during our military service we learned that the intelligence corps is an inseparable part of the military control of the territories (Judea and Samaria - ed.)."
According to the signatories, the Arab residents of the region are "completely exposed" to Israeli spying and surveillance, adding "as opposed to Israeli citizens of citizens of other countries, there's no oversight on methods of (intel) gathering, surveillance and use of information in regards to Palestinians, whether they're involved in violence or not."
"The intelligence (corps) allows continued control over millions of people, a deep and penetrating supervision and invasion of (privacy in) most aspects of life. All of this does not allow a normal life, fuels more violence, and distances the end of the conflict," they claimed.
In response to the letter, the IDF Spokesperson Unit said that sending the insubordination letter to the Israeli media before turning to commanders or relevant IDF sources with the complaints hints at a lack of seriousness to the claims. In particular, it noted, "regarding the claims about harming innocents, the process of approving targets in the IDF is long and strict, and also takes into account those not involved."