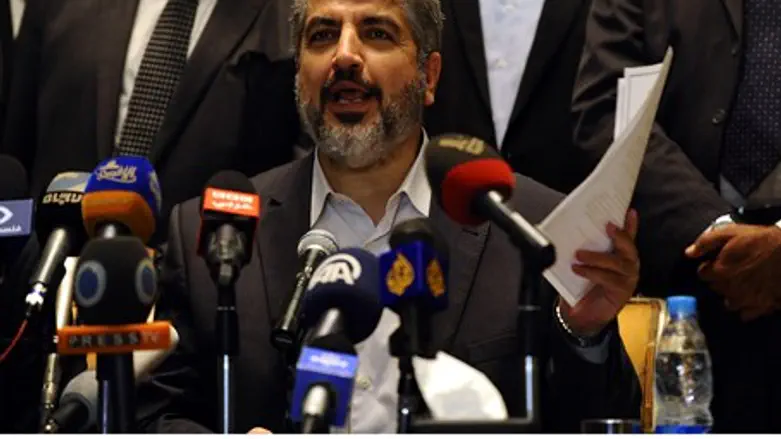 Khaled Mashaal
Reuters
Hamas's exiled leader, Khaled Mashaal, declared on Friday that his group would not hold direct negotiations with Israel, AFP reported.
The comments come a day after another Hamas leader, Moussa Abu Marzouk, hinted that direct negotiations with Israel might be needed.
"If the situation remains as it is now... Hamas could find itself forced to do this," he told the Palestinian Al-QudsTV.
Mashaal, however, said this would not happen.
"Direct negotiations with the Israeli occupier is not on the agenda of Hamas; if negotiations are necessary they must be indirect," he said, speaking in Tunis.
The exiled leader of Hamas also denied that his group was running a "shadow government" in Gaza as charged by Palestinian Authority Chairman Mahmoud Abbas.
"There is a national unity government; talk of a parallel government is totally against reality," Mashaal said after meeting Tunisian President Moncef Marzouki, speaking days after Abbas threatened to break off a unity agreement with Hamas.
He said government ministries were still "operating normally" in Gaza even if the "government is absent from" the coastal enclave and urged the cabinet to be present.
"We welcome the government of national unity to work in Gaza, to take charge of crossing points and assume all its responsibilities in line with what we agreed upon," said Mashaal, according to AFP.
Hamas forcibly took over the Gaza Strip in 2007, ousting forces loyal to Abbas and sparking a bitter and bloody split with his Fatah movement.
The two rival factions formed a unity government several months ago but there have been multiple indications over the past several months that the union has been slowly crumbling.
Differences of opinion have surfaced over several issues, including the war in Gaza, reactions to the abduction and murder of three Israeli teenagers, and the delayed payment of wages for government workers in Gaza in the weeks leading up to Operation Protective Edge.
But last week Abbas accused Hamas of running a parallel administration in Gaza.
"We won't accept a partnership with them if the situation continues like this in Gaza, where there is a shadow government... running the territory," he said.
"The national consensus government cannot do anything on the ground," he charged.
On Monday Hamas accused Abbas of trying to sabotage the unity deal.
(Arutz Sheva's North American desk is keeping you updated until the start of Shabbat in New York. The time posted automatically on all Arutz Sheva articles, however, is Israeli time.)