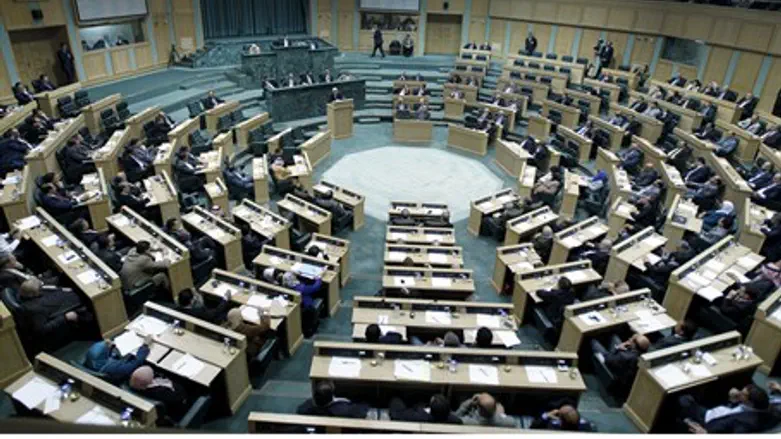 Jordan's parliament
Reuters
Some 40 Jordanian parliamentarians have demanded that the Jordanian government prevent the national electricity company from signing an agreement to import gas from Israel, the Jordanian-based Ammon News website reported on Wednesday.
In a memorandum submitted by MP Khamis Attia during a session yesterday, the group said: "We the undersigned deputies call on the government to prevent the national electricity company from signing an agreement to import gas from the State of Israel."
"We deplore any agreement to import gas from Israel. The government or the national electricity company must not sign any agreement with Israel which would contribute to the occupation," added the MPs.
The MPs considered "the solution to Jordan's energy problem is to use alternative energy through partnerships with other Arab states and not with Israel," according to Ammon News.
The move comes a week after the U.S.-based giant Noble Energy announced that Israel is to supply Jordan with natural gas from its vast Leviathan offshore gas field over a period of 15 years.
A source close to the deal said it was worth $15 billion (11.4 billion euros) - a significant chunk of some $60 billion which Prime Minister Binyamin Netanyahu has said will come from Israel's offshore gas exports.
This is not the first time Israel and Jordan have discussed a natural gas deal. Just six months ago, the Arab Potash Company (APC) signed a similar deal to increase Jordan's reliance on Israeli energy, after Egyptian pipelines became unreliable after countless attacks from terrorists in the Sinai. 
While Jordan has a peace treaty with Israel, many of its parliamentarians are against it and have more than once demanded that the peace treaty be annulled.
In March, incensed by the shooting death of judge Raed Zeiter at a border crossing, MPs had demanded the government expel the Israeli ambassador and release Jordanian soldier Ahmad Daqamseh, who shot dead seven Israeli schoolgirls in the 1990s.
They have also demanded the government recall the Jordanian ambassador to Israel.
Jordan's Prime Minister, Abdullah Nsur, later rejected the idea, warning that "Jordan will face repercussions that would go beyond our sorrows" if it cuts ties with Israel.