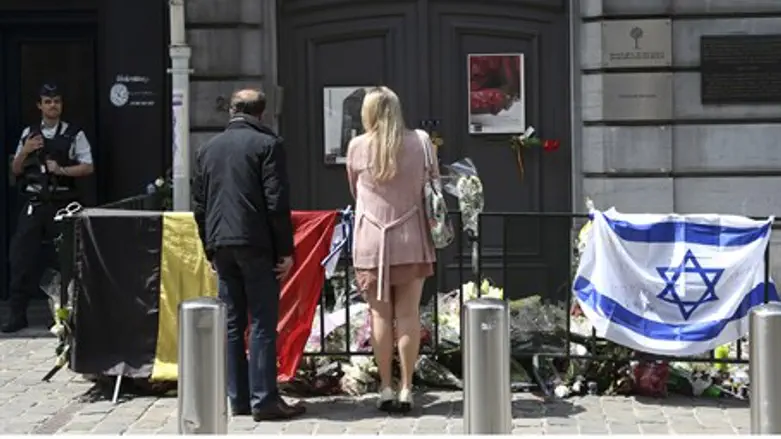 Brussels Jewish Museum (file)
Reuters
The Jewish museum in Brussels will reopen on Sunday under tight security, in a message of defiance after terrorist Mehdi Nemmouche, a former torturer for the brutal Islamic State (IS, formerly ISIS) in Syria, shot dead four people there in May.
"We should not give free rein - I dare say - to bastards," the museum's secretary general Norbert Cige told reporters when asked what message the reopening gave. "We are continuing our educational work. In this world of brutes, it's necessary."
The museum did not have special security precautions before the May 24 attack, unlike synagogues and other Jewish community sites in Brussels which were forced to take the steps due to the rise in violent European anti-Semitism.
But on Sunday, the European Day of Jewish Culture, two police officers will guard the museum entrance, a metal detector will be set up and visitors searched, officials said.
Speaking of the steps, Museum President Philippe Blondin said "the public and our staff can be reassured."
Two exhibitions that began before the shooting - "Warsawwarsaw" and  "The dress is elsewhere" - will resume when the museum re-opens on Sunday. Another, "Gotlib's worlds," will open to the public on November 13 and run through February 15 next year.
In the longer term, part of the museum in the heart of Brussels will be demolished and rebuilt, with work to be complete in 2007. "We want, with absolute determination, to retake our place in the cultural arena of Brussels," Blondin said.
Refusing to reconstruct the murder
Speaking about Nemmouche, a Frenchman of Algerian origin who was extradited from France to Belgium in July and charged with the murders, Blondin said the terrorist "does not want to take part in the reconstruction" of the event.
Nonetheless, he said, Nemmouche will "perhaps be brought to the scene" for the re-enactment designed to help prosecutors piece together the crime.
"But will he speak, will he cooperate? We know nothing," Blondin, said hoping the reconstruction will happen as "quickly as possible."
Officials had said earlier the museum would remain closed until the re-enactment, but Blondin said the investigating judge finally agreed that it could reopen Sunday on condition that nothing be changed to the entrance where the four people were gunned down.
According to reports, Nemmouche planned to launch a large-scale terror attack on the major Paris street Champs Elysees on Bastille Day, which marks the anniversary of the beginning of the French Revolution in 1789.