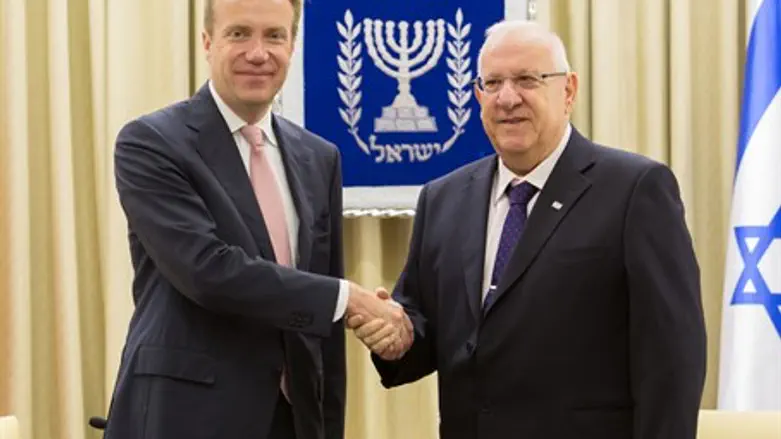 Reuven Rivlin, Borge Brende
Flash 90
Recently inducted President Reuven Rivlin met with Norwegian Foreign Minister Borge Brende on Sunday at the President's Residence in Jerusalem, where they spoke about the ceasefire sealed with the Hamas terrorist organization on August 26.
"I would like to welcome you once again to our state and to the region," opened Rivlin. "We appreciate very much your concern and your idea to come to us once again, and the appreciation goes with the understanding that you are very much worried about the situation with the people of Gaza."
Rivlin spoke about the ceasefire condition stipulating that Israel allow construction materials in to rebuild Gaza, despite the usage of such materials in building an extensive network of terror tunnels used lethally against Israel in Operation Protective Edge.
"The reconstruction of Gaza is one of our interests as much as it is of the all the free world," stated Rivlin.
However, he warned that "the rehabilitation and reconstruction of Gaza should go along with the demilitarization of Gaza because otherwise we can see the next round (of fighting) in no time, because the Hamas people once again will spend all the money that the whole world is trying to help them with in order to reconstruct Gaza, and will put it into military aims and the ability to attack Israel."
Hamas has flatly rejected the lone Israeli demand for the disarmament of Gaza. Rivlin concluded by warning "we can come to a dead-end once again and we could find ourselves in a very, very serious situation."
Indeed, Hamas threatened during the operation that if it reached a ceasefire with Israel it would only be so as to plan the next terror war. It has been revealed that each terror tunnel, of which over 30 were destroyed, cost millions of dollars to build in money and materials that were siphoned off of aid to the Hamas stronghold.
Gaza in context of Islamic State?
Responding to Rivlin, Brende remarked "I know that this has been a very difficult summer for Israel. I was here in July and I saw this. It has been tough on Israel and tough on the Palestinian people."
During his July visit, Brende saw fit to call on Israel as an "occupier" to show "restraint" in the escalation leading up to the counter-terror operation.
"I know now that there are important negotiations on a more permanent ceasefire and the conditions in Gaza under Egyptian leadership and I think that this is important," said Brende, a day after a senior member of the Palestinian Arab delegation said ceasefire talks will resume in two weeks.
The Norwegian Foreign Minister concluded by claiming "we cannot discuss the Israel and Palestinian situations without looking at it in a broader context," specifically referring to the Islamic State (IS, formerly ISIS) terror group conquering Iraq and Syria.
The statement brings to mind that of Egyptian President Abdel Fattah al-Sisi, who said last Wednesday that the lack of "peace" in Israel leads to a "fertile environment for the growth and spread of extremism, violence and terrorism," blaming Israel for IS.