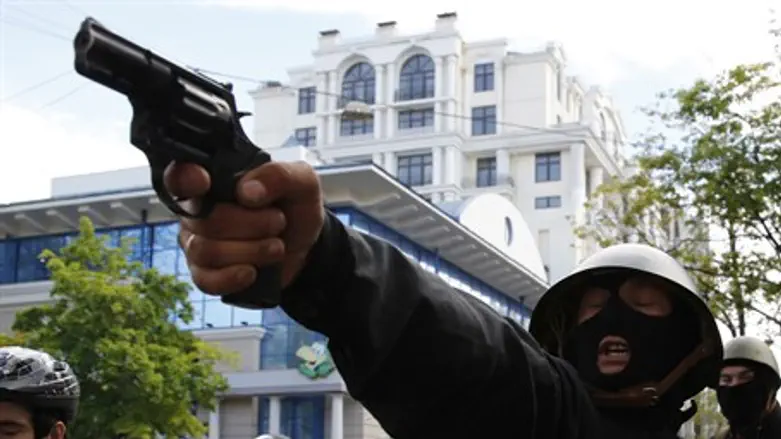 Pro-Russia 'activist' aims a pistol at pro-Ki
Reuters
Garik Zylberbord, 47, a prominent member of the Jewish community in Ukraine, was killed in Donetsk while trying to stop pro-Russian rebels from robbing his neighbor's home on Saturday, reports Chabad.org.
Rabbi Pinchas Vishedski, a close friend of Zylberbord, described him as someone who became closer to his Judaism over the years, being circumcised (his Jewish name was Eliyahu) and attending synagogue regularly. He was also a generous financial supporter of the community.
"Much more than that, he was a very, very good friend," lamented the rabbi. "He was like a brother."
The rabbi's wife, Dina Vishedski, agreed: "He was like a part of our family. The funeral was very difficult. The Donetsk Jewish community is spread throughout the country, but people came from everywhere. He was a very active person and had many friends. He was a very special person. I have no words."
Rabbi Vishedski, who recently fled Donetsk because of the fighting there, has set up a Donetsk Jewish community office in Kiev "to help the lost and struggling Jews of his city who have found refuge there and in other parts of the country," according to the Chabad report.
When Zylberbord's wife, daughters and parents arrived in Kiev on Sunday together with their deceased loved one, "they joined the thousands of refugees who have escaped from the disintegrating east."
"The vast majority of Donetsk's Jews have also fled," according to the report. "Today, they find themselves scattered about the country, living in refugee camps, senior centers and rented apartments in places like Kiev, Zhitomir, Odessa, Kharkov, Kremenchug and Dnepropetrovsk. Following the recent entrance of tanks, infantry and artillery from over the Russian border in the country's southeast, those who earlier ran to Mariupol, which is just miles from the new center of fighting, find themselves in danger once again."