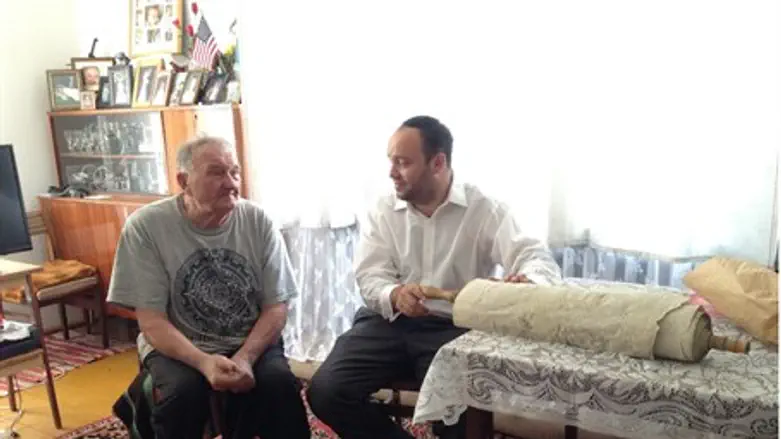 Kazmir Wrubleski (L) and Mi'amakim Director J
(Photo: Mi'amakim
An antique Torah scroll that was discovered in the home of a Polish family was returned to Israel this week. The scroll had been hidden in the family's house by their Jewish neighbors with the onset of World War II.
The Torah scroll was discovered at the village of Wrubleski Filipov northern Poland. A group of archeology students from the University of Warsaw, part of a volunteer project run by the "Mi'amakim" (From the Depths) organization, which conserves memory of the Holocaust. The project's goal is to try and find as many fragments of Jewish gravestones that have been smashed over the years and used as building materials. The students examined the scroll last week in the home of the couple, who are both in their seventies.
It was through a search for such fragments that the students discovered the scroll.
When the volunteers asked the couple whether they know of places where they could find fragments of Jewish tombstones, the husband, Kazmir Wrubleski, such that they did not know about such fragments. At that point, his wife offered to show the students the "Jewish book" that had been in their home since the beginning of World War II.
To the astonishment of the students, the couple pulled out from under the couch in their living room a large Torah scroll in very worn condition. They told the volunteers that the Torah was brought to their home immediately with the onset of World War II by their Jewish neighbors, who asked parents of Mr. Wrubleski to keep the book for them until they returned home – but that if they did not, to transfer it to another Jew. The couple did not come across many Jews in post-war Poland, and it was only now, in 2014, that they found the right party to transfer the scroll to - Mi'amakim Director Johnny Daniels, who brought the scroll to Israel this week.
"The couple hid the scroll given to them by their Jewish neighbors for many years," said Daniels. "They did not know that this was a sacred object and used some of the pages as cleaning materials and shoe insoles. When they saw me kissing the book with excitement, they did not believe their eyes, unaware of its holiness to the Jews. The scroll is now in Israel, and I intend to restore it and dedicate it to Holocaust survivors in Israel and abroad. We invite Holocaust survivors to write a letter in the scroll. Once it is completed we will have a ceremony where we will put the restored Torah scroll in the Knesset's synagogue," he added.