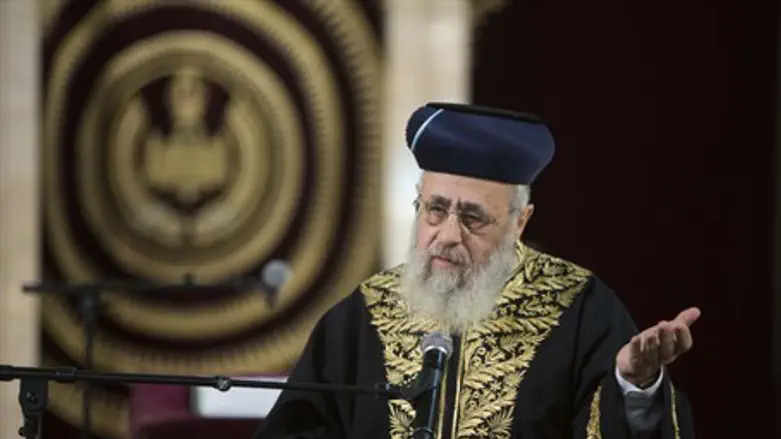 Rishon LeZion, Rabbi Yitzhak Yosef
Flash90
If the government intends to eliminate one of the offices of the Chief Rabbi, it should be that of the Ashkenazi Chief Rabbi, said Sephardic Chief Rabbi Yitzchak Yosef. Speaking to yeshiva students in Jerusalem, Rabbi Yosef pointed out that his office – that of the Rishon LeZion, the head of the Sephardic community in the Holy Land – was there first, and had seniority.
Rabbi Yosef made the comments in response to pending legislation that would have Israel led by only one Chief Rabbi. The Knesset on Monday voted to approve on its first reading a law that would unify the office of the Chief Rabbi. Instead of two Chief Rabbis, one to serve the Sephardic community and one for the Ashkenazic community, there would be a single Chief Rabbi for all. The bill was proposed via the collaboration of two religiously and politically opposed ministers: Justice Minister Tzipi Livni (Hatnua) and Economics Minister Naftali Bennett (Jewish Home).
"The Rishon LeZion's office has been active for 380 years, Rabbi Yosef said. "This important tradition cannot be stopped." He told students that he had met with Prime Minister Binyamin Netanyahu and expressed to him the importance of maintaining his office.
"The Chief Rabbinate itself was established by Rabbi Avraham Kook over 100 years ago," said Rabbi Yosef. "He sought help from the Rishon LeZion who was officiating at the time, and asked him if he would be part of the Rabbinate, together with an Ashkenazi rabbi. The ways of peace are great, and the Rishon LeZion agreed. So, if they want to cancel one of the offices, it should be the newer one, not the one that has been in place for hundreds of years."
Currently, one Chief Rabbi serves as the President of the Great Rabbinical Court, whereas the other serves as Vice President. The bill would have existing rabbinical judges (dayanim) from the Great Rabbinical Court appointed as President and Vice President, similarly to the way civilian Supreme Court judges are selected to head the Supreme Court.
The bill will have a lasting impact on world Jewry as well. Not only have the Ashkenazi and Sephardic communities effectively been combined in the legal sense in Israel -- a treaty signed by American and European Rabbis in November declared the Rabbinate the leading authority of the Jewish world. Therefore, its unification will affect all Jewish communities.