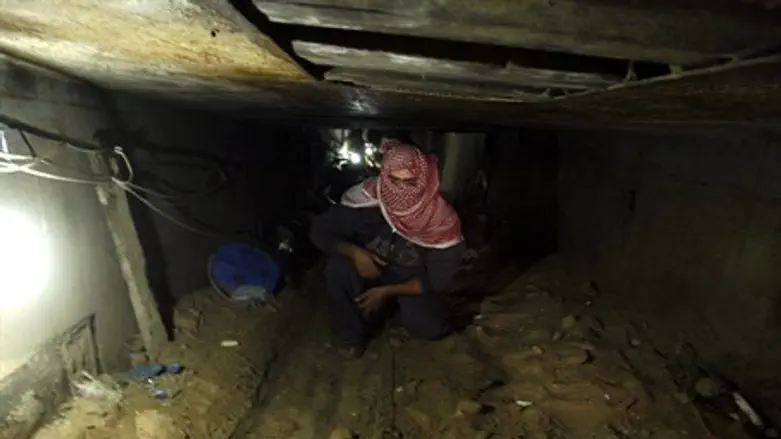 Gaza terror tunnel (file)
Flash 90
A senior security source in the Sinai peninsula has revealed that the explosion that killed 11 Egyptian soldiers on Tuesday, which occurred near the Rafah crossing to Gaza, was in fact caused by an explosive planted in a tunnel.
The source was cited by Yedioth Aharonoth as saying the tunnel was dug under the main traffic circle in the city Rafah. After the incident, and the shooting to death of an Egyptian policeman in northern Sinai on Wednesday, security forces in the region raised their terror alert.
The report about the tunnel apparently would be the first instance of a tunnel from Gaza to Sinai being used not for smuggling goods and weapons, but rather to carry out an attack, in what has been termed a "terror tunnel."
Just on Sunday it was reported that four smuggling tunnels into Sinai from Gaza were destroyed by Egypt, bringing the total of the destroyed tunnels to 1,710. It remains unclear which group is behind the Tuesday attack, as numerous extremist groups have been active in Sinai.
Egyptian security officials initially claimed that the 11 Egyptians soldiers, including an officer, were killed when a roadside bomb blast struck their armored vehicle.
Egypt is currently playing the role of mediator in the ceasefire negotiations between Hamas and Israel, even though Hamas has objected to Egypt playing that role, unsuccessfully demanding its sponsor Qatar manage the negotiations.
The Nile state outlawed Hamas in April, given that the group is an offshoot of the Muslim Brotherhood. Hamas also ran afoul of Egypt after reportedly conducting numerous terrorist attacks in the Sinai; Egypt accused the group of a December attack on Egyptian police headquarters, and of planning church bombings in Sinai last Christmas.
An Egyptian siege on Gaza has recently been partially lifted as part of the ceasefire deal reached last Tuesday; on Wednesday a UN humanitarian aid convoy crossed through the Rafah crossing from Egypt for the first time since 2007, when Israel imposed a security blockade on the Hamas-ruled terror haven.