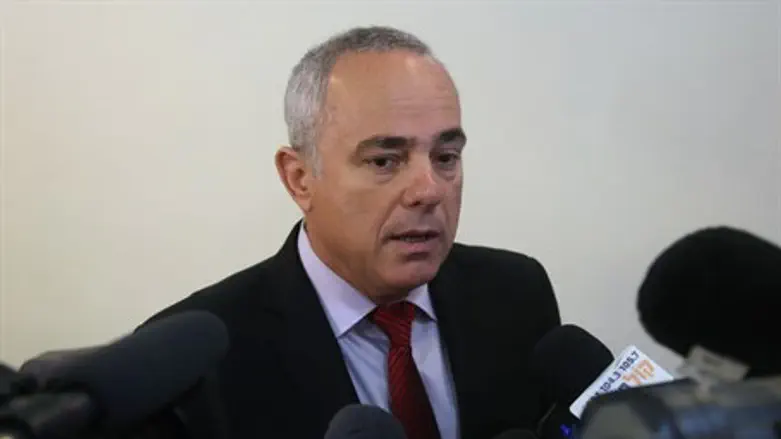 Yuval Steinitz
Flash 90
An Israeli delegation is to travel to Washington DC next week to petition US officials to take stronger stance in renewed talks between major world powers and Iran, in which the sides will discuss the Islamic regime's nuclear program.
"I will travel to Washington next week at the head of an important delegation, in light of what could be the last round of negotiations between world powers and Iran before a November deadline for an agreement," Intelligence Minister Yuval Steinitz said Wednesday.
"If a bad agreement is reached, this will be unacceptable for us," added the minister, who presented the status of Iran's nuclear program before members of the Foreign Affairs and Defense Committee.
Steinitz noted "we are summarizing today 11 years of negotiations between Iran and world powers. And as of today, I am sorry to say that after a year of talks, Iran is closer than ever to achieving nuclear capabilities."
"What we see today is a very troubling picture. While Iran has agreed to several small concessions, on all the issues touching the heart of the (nuclear) program, like uranium enrichment in the centrifuges, Iran hasn't agreed to budge even a millimeter," added the intelligence minister.
"We oppose not only the possibility that Iran will be a nuclear-armed military state, but also to the very possibility that Iran will be a nuclear-threshold state," continued Steinitz.
Speaking about the dedication of Iran to its nuclear program, Steinitz revealed "to our estimations until today, Iran has directly invested in its nuclear program around $50 billion dollars, and in addition the indirect damage it has absorbed as a result of sanctions placed on it totals an additional $150 billion dollars."
Steinitz concluded by emphasizing there is no meaningful difference between the world-view of Iran under former President Mahmoud Ahmadinejad and current President Hassan Rouhani, despite the West's perception of him as a "moderate."
Talks with the Islamic regime
The US and other world powers reached a controversial interim deal with Iran over its nuclear program last November, leading to the current negotiations over a comprehensive agreement. During the talks Iran agreed to limit some of its nuclear activities in order to receive sanctions relief.
However, Iran has been taking an increasingly aggressive line in demanding its "right" to enrich uranium, with Iranian Supreme Leader Ayatollah Ali Khamenei recently saying Iran "needs" 19 times more nuclear centrifuges than the amount being offered by world powers.
Negotiations have been leading to a July 20 target date, but they were recently extended until November 24, giving Iran more time to slowly advance its nuclear program. Talks are to open in New York ahead of the UN General Assembly opening on September 16.
While Iranian Foreign Minister Mohammad Javad Zarif on Monday voiced optimism that an agreement can be reached by the November deadline, Zarif just the day before on Monday warned of "unpleasant" responses to new US sanctions against it.
It is worth noting that Khamenei back in January publicly revealed that the negotiations with the US about Iran's nuclear program are part of a tactic to stall international pressure and gain time to continue Iran's nuclear program.
Iran has also been active in attacking Israel, with a senior Iranian official revealing last month that the Islamic regime is arming terrorists in Judea and Samaria, and vowed it would continue supporting "the resistance" against Israel.
An IDF source revealed last month that in addition to supplying weapons, Iran also launched a cyber war on Israel during Operation Protective Edge.