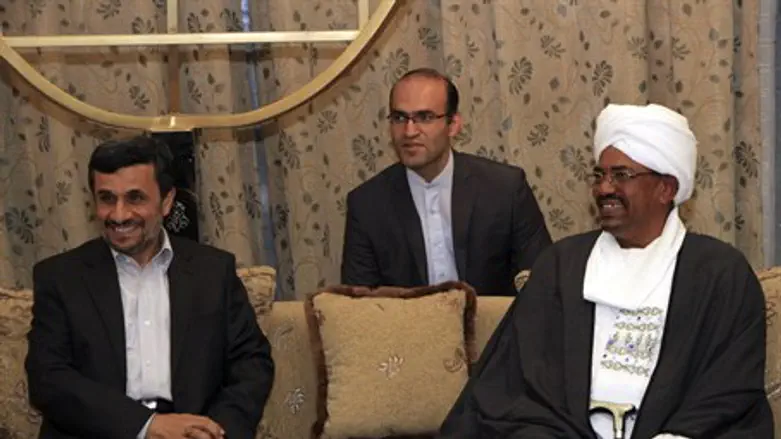 Happier times: Sudanese President Omar al-Bas
Reuters
Sudan has expelled the Iranian embassy's cultural attache, in a slap in the face to its one-time ally over creeping "Shia influence" in the Sunni-majority country.
The Sudanese government closed down the Iranian Cultural Center in the capital Khartoum, and ordered the attache and all the center's staff to leave the country within 72 hours.
According to the Sudan Tribune the move was taken amid growing controversy over the spread of Shia Islam - and the accompanying Iranian political influence - in the country which is overwhelmingly Sunni Muslim. 
The Tribune quoted statements by an Egyptian TV pundit, Ahmed al-Maslamani, who recently claimed that some 12,000 Sudanese had converted to Shia Islam, most of whom were students who attended regular workshops held by Iran's cultural attache. He also aired a video recording of a prominent Shia cleric in Kuwait calling on Shia Muslims in Sudan to mount an "uprising" against President Omar Hassan al-Bashir.
The dramatic move is the latest illustration of the rapid shift in regional alliances along sectarian lines. Sudan, which until recently had been considered a close ally of Tehran, has been realigning itself with other Sunni Muslim Arab states such as Saudi Arabia, in response to biting international sanctions over war crimes committed in Darfur.
The Saudis, along with other Gulf states, have been highly critical of Sudan's close relationship with Shia Iran, and Sudan's government has of late turned to Riyadh for aid to counter the stranglehold of western sanctions on the country's economy.
But the decision to expel Iranian officials could be the least of Iran's worries. The Iranian government has enjoyed close military ties and trade with Sudan, and the north African country's Red Sea port is an important strategic asset for Iran in an otherwise hostile region.
It could also spell trouble for Iranian-backed terrorists in Gaza. In the past, Sudan has helped transfer arms to Hamas and other Iranian proxies, and the Israeli Air Force has mounted airstrikes on arms convoys from Sudan on several occasions in the past, as well as a military strike on a Sudanese arms factor in 2012.